Details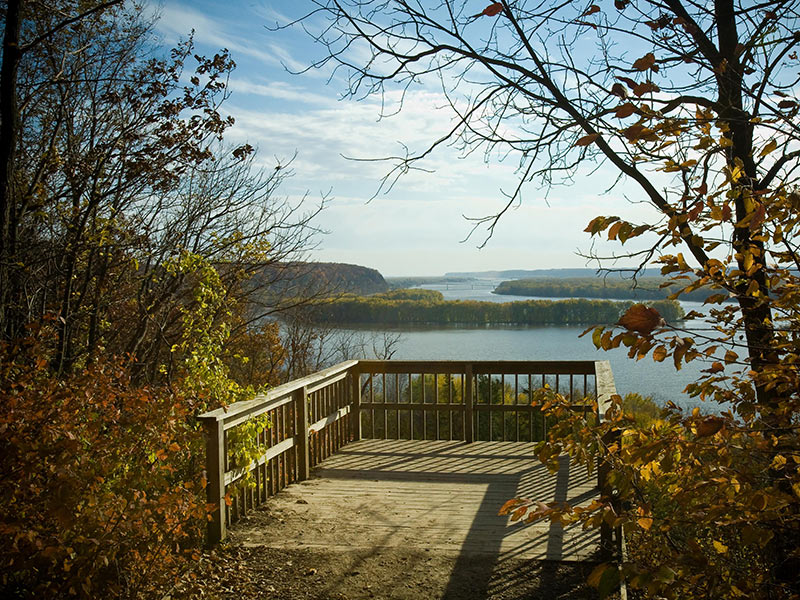 Located near the confluence of the Mississippi and Apple rivers in northwestern Illinois, the 2,500-acre Mississippi Palisades State Park is rich in American Indian history.
The Native American pathfinders along the rock palisades of the Mississippi River did as present-day hikers do – in coursing the bluffs, they took the paths of least resistance. The trails at the Mississippi Palisades, especially the park's southern routes, puts you in touch with the past. Walk them and you'll trace the footsteps of all those who came before you, some of whom came this way nearly a thousand years ago.
Palisades is the word used to describe a line of lofty, steep cliffs usually seen along a river, and Mississippi Palisades, 3 miles north of Savanna in Carroll County, handsomely lives up to its name. Caves are evident as are dangerous sink holes-limestone caves that go straight down. Erosion has carved intriguing rock formations, including Indian Head, with its aquiline characteristics, and Twin Sisters, a pair of humanoid figures on the bluff tops. The U.S. Interior Department recognized the remarkable nature of this area when in 1973 it designated acreage here as a national landmark.
CAMPING
With 241 Class A and B sites in both shaded and open areas, Mississippi Palisades is in demand by campers. Electrical hookups are available at 110 sites. Showers and flush toilets are situated in three buildings and are in operation from May 1 until Oct 31. You can pick up supplies at a camp convenience store, open during the summer. The campground also features water and two sanitary dump stations. Only campers with permits are allowed in the campground, with admittance prohibited from 10 p.m. to 7:30 a.m. Reservations are no longer being taken for the Class A and B sites at Mississippi Palisades.
Two youth camping areas are also available. These may be reserved from June 1 through October 31. An adult must accompany every group of 15 minors. Any group of 25 or more must get permission from the site personnel before entering the park.