Hairy Cow Brewing Company | Byron, IL
Hairy Cow Brewing Company is the first brewpub in Ogle County
Located in Byron, Illinois on the banks of the beautiful Rock River.
I walked in and was immediately impressed by the stunning ambiance of the building–high ceilings with tons of natural light beaming inside, a beautiful view of the Rock River, and a stunning rock-faced taproom fireplace. It's topped off, of course, with photos of Scottish Highland "Hairy" cows, where the name "Hairy Cow Brewing Company" originated from. I had the opportunity to sit down with one of the owners and the brewmaster to learn about the history of this new brewery.
Some history
The idea started from a passion of breweries and brewing their own beer. They loved the culture and the community and wanted to fill a void that Ogle County was missing. The idea started in 2016. It started off with monthly beer tastings and attending several beer tastings at festivals and events in order to generate name recognition and promote the upcoming opening of the brewery. They also created a Kickstarter campaign to get the financial ball rolling. They raised 30k in 30 days! Supporters included friends, craft beer lovers, and a lot of community support. In doing so, they already had a following of craft beer lovers, resulting in being very busy since officially opening the doors in 2018.
It's a brewery — not a bar
Hairy Cow is Veteran owned and Military and Law Enforcement friendly – even proudly displaying a blue line on one of their high-top bars. They pride themselves in being a brewery, not a bar. All beers are made in-house and feature 10 taps. Currently, Hairy Cow is doing four to five Guest Beers and five of their own. They strive to make a balanced beer with nothing too outside of the box. Some of the selection includes options such as Coconut Porter, IPAS, and a Turtle Tree Cream Ale.
Brick-oven style pizza – 18 options!
In addition to amazing beer, Hairy Cow also features brick-oven style pizzas that are made fresh to order in less than 10 minutes and are DELICIOUS. The dough is made fresh daily, in-house, using the finest flour, yeast, water, and Hairy Cow beer. It's aged for at least 24 hours. Ingredients are always fresh, without any artificial flavors, colors, or fillers. The menu has 18 pizza options (yes you read that right, 18!)
Everything from classic cheese, Margherita, veggie, buffalo chicken, and even all-day breakfast pizza. They even offer gluten friendly dough. In addition, they have salad options, appetizers such as German-style pretzels, deep-fried mushrooms, and wings. To end your meal, Hairy Cow offers locally made cheesecake for desert. They have over twenty recipes on a rotating basis and the menu states that it might, quite possibly, be the best cheesecake you've ever had.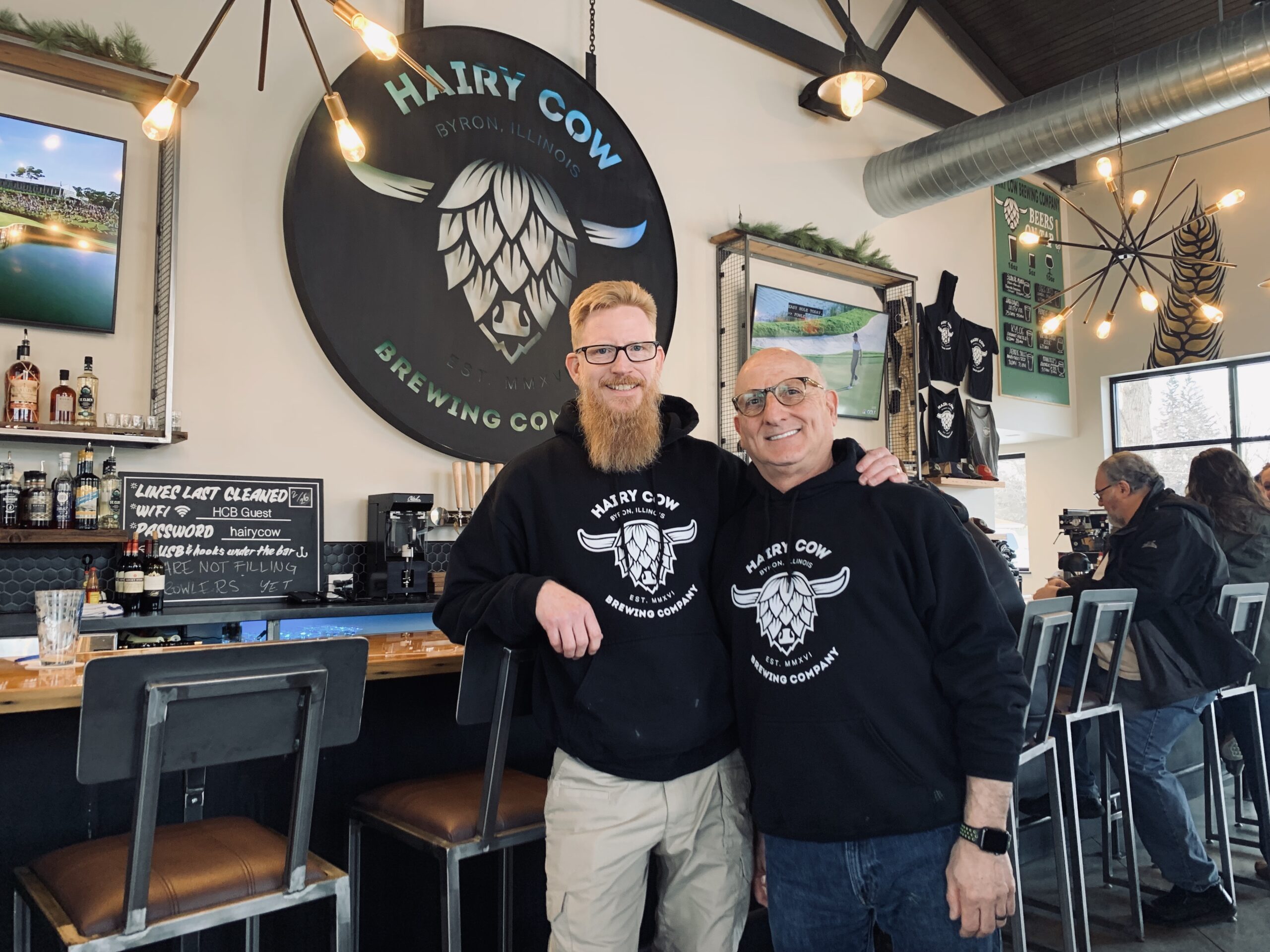 Integral Part of the Community
Hairy Cow strives to be an integral part of the community. It's a gathering place where folks can meet with friends, family, and business associates to enjoy craft beer and pizza from the patio overlooking the riverfront or while seated around the taproom fireplace. This is a place where you can dock your boat and enjoy time around the outdoor firepit while taking in the Rock River view.
Hairy Cow has plans for this Spring and Summer
Hairy Cow has some big plans. A beer garden and public boat docks are planned for this Spring and Summer. Stay tuned for upcoming music and seasonal events and festivals.
Make the trip to Byron, Illinois and visit Hairy Cow Brewing Company.
Hairy Cow Brewing Company
450 E. Blackhawk Dr
Byron, Illinois 61010
(815) 406-8198
FACEBOOK: https://www.facebook.com/Hairycowbrewing/
INSTAGRAM: https://www.instagram.com/hairycowbrewing/
TWITTER: https://twitter.com/hairycowbrewing