The Mad Hatter's Ideas N' Designs Antiques | "Falling down the rabbit hole."
It all began simply enough. A casual remark about an antique shop "that had to be seen to be believed" led to a weekend spent traveling throughout Carroll County in northwest Illinois.
Meet the Andersons
Len and Linda Anderson own and operate The Mad Hatter's Ideas N' Designs Antiques in historic downtown Mt. Carroll, Illinois. The brick-paved streets of the historic section of town have shops and restaurants throughout the area. This business definitely belongs there.
The Andersons purchased the building, formerly a furniture store, in 1999. Married for 48 years, they are two peas in a pod.
Len is a former executive with Sears Roebuck. Linda taught window display early on–aka before kids–and then was a window trimmer in the 80s in St. Paul, MN. Visions of Rhoda, anyone?
From city living to country living
They moved from Minnesota to St. Charles, IL, in 1992. Len decided to take early retirement in 2001, which led the couple to search for what they wanted to do with their newfound free time. They saw a property in Mt. Carroll that looked like too much work. Len told Linda that it was her turn to do what she wanted. Sweet guy, that Len. He would move anywhere she liked this time.
During this time, the kids were out of the house. Linda was able to use her design skills from her St. Paul days. The collectibles and antiques are artfully stacked throughout the main floor. You can see Linda's whimsical window designs. She uses mannequins and antique dishes, furniture, and other unusual items in all her work.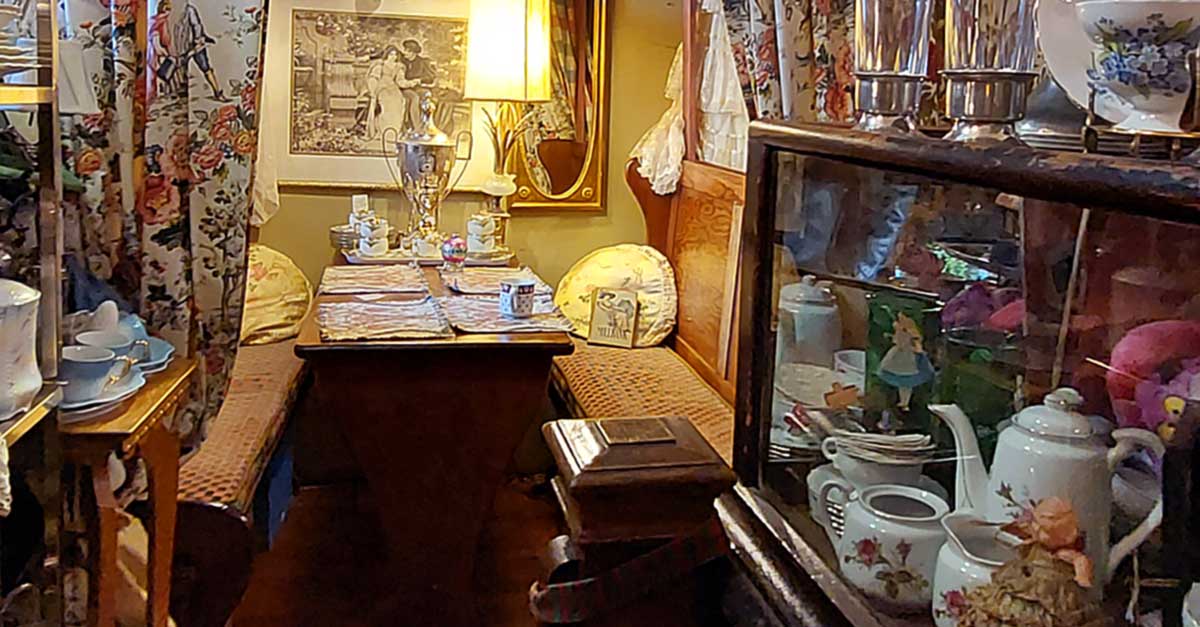 Indoor beverages and outdoor tea parties
There is a small kitchen area to prepare coffees and teas for any visitor in the shop–free of charge. Want to take a load off? Two ornate dining booths are set among all the inventory. Even though they're somewhat hidden (at first glance), you can see the charm and coziness they bring to the shop. "I always imagined someone getting engaged in these booths," remarks Linda. "Ironically, the first couple that got engaged was my daughter!"
Besides the in-house coffee and tea, the shop does tea parties outside during the year's warmer months. A bit of "Alice in Wonderland" feelings emanate while viewing photos taken during Linda's tea parties. As Linda puts it, "It's like falling down the rabbit hole."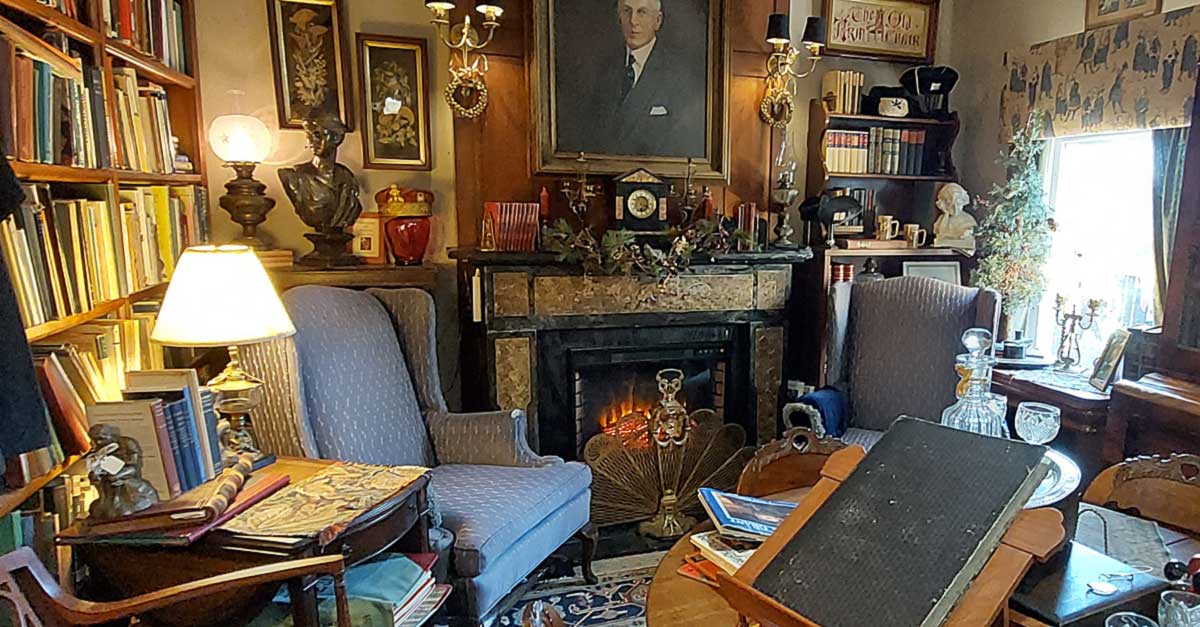 The Andersons renovated a back room into a cozy book-lined library, formerly a mortician's workroom. Visitors can spend hours looking through his collection of the written word. As you continue to travel through the shop, an antique phone booth with a lamp is open for selfie opportunities; old toys, tools, cameras, and books appear on either side of you.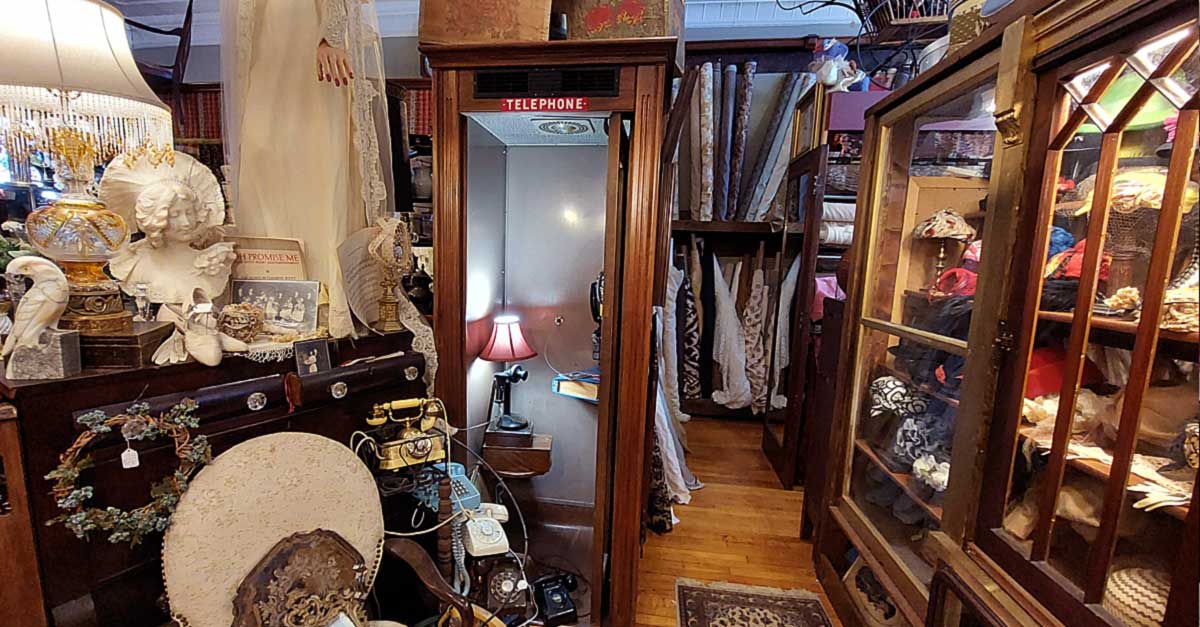 If you happen to be reupholstering a piece of furniture, this shop has rolls and rolls of luxurious fabrics in a multitude of colors.
Len is a classic car enthusiast. He is one of the founders of Mt. Carroll Cruise Nights, a monthly classic car show still held in the summer. Guests are welcome to visit his garage at the back of the building to see what he's renovating. "You missed seeing the 1932 Buick I had until recently," said Len. The classic car just sold. Currently, the garage houses a 1997 Chevy Camaro Z28.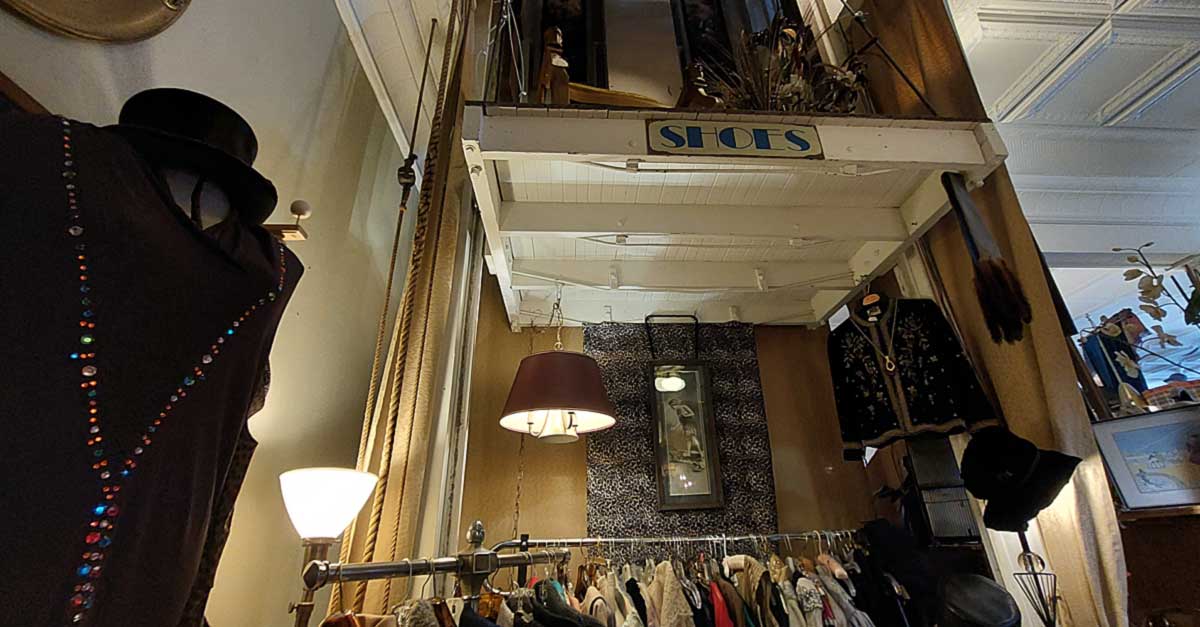 A beautiful staircase accesses the second floor. This level is the Andersons' private quarters. When Len went through some health issues a bit ago, the stairs provided a real challenge for him. That's where the old freight elevator came into use. At the time (and now), Linda used the elevator as staging for her designs. After relocating all of the design items, Len was able to get up and down while recuperating. An added fact is the elevator is not motorized. It's run by pulling on the rope and pulley system. Upper body strength is a requirement for this elevator's operation.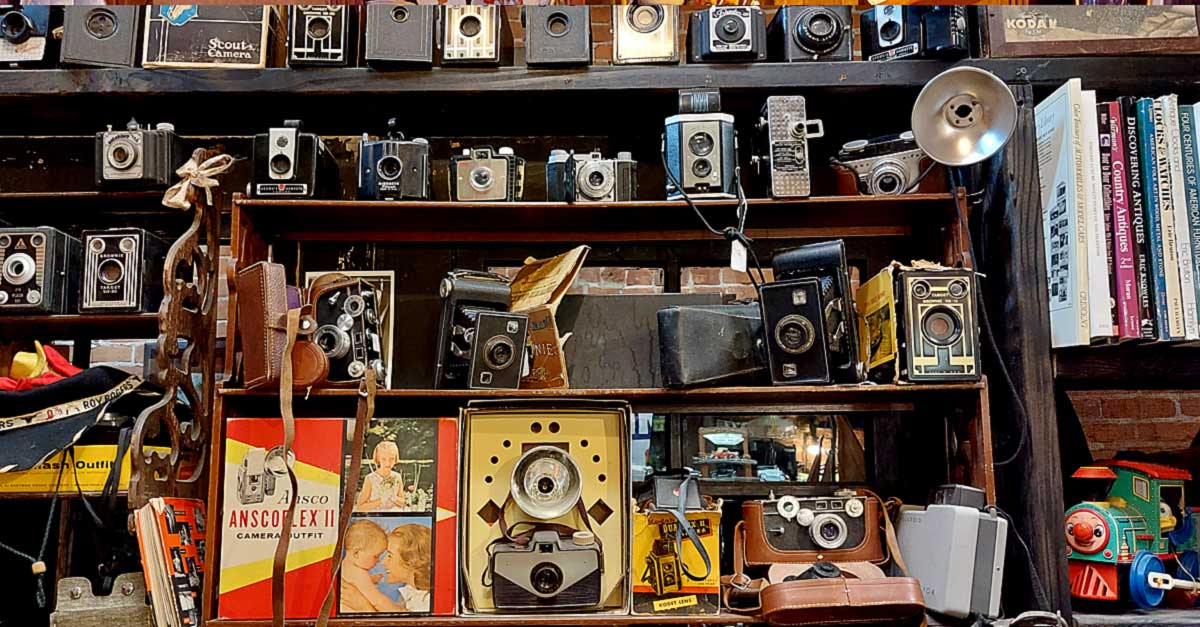 You have to visit The Mad Hatter's Ideas N' Designs Antiques to feel and enjoy it. The Andersons are gracious hosts and will wheel and deal with prices–every antique buff's dream.
HOURS
They are open by chance or appointment. See the phone number below.
Contact information
The Mad Hatter's Ideas N' Designs Antiques
116 W Market St.
Mt Carroll, IL 61053
Phone: 815-244-7875, cell: 224-343-4177
Email: [email protected]
---

Get a room.
Weekend means an overnight stay at some point. In Shannon, Illinois, the Hickory Hideaway was my lodging of choice during an extremely windy and cold weekend in early February. Innkeepers and owners, Sherry and George Vidinich, added an extra touch to my stay in luxury cabin M. To my appreciative surprise, Sherry provided a lovely tray with chocolates, mini eclairs, and some sparkling wine.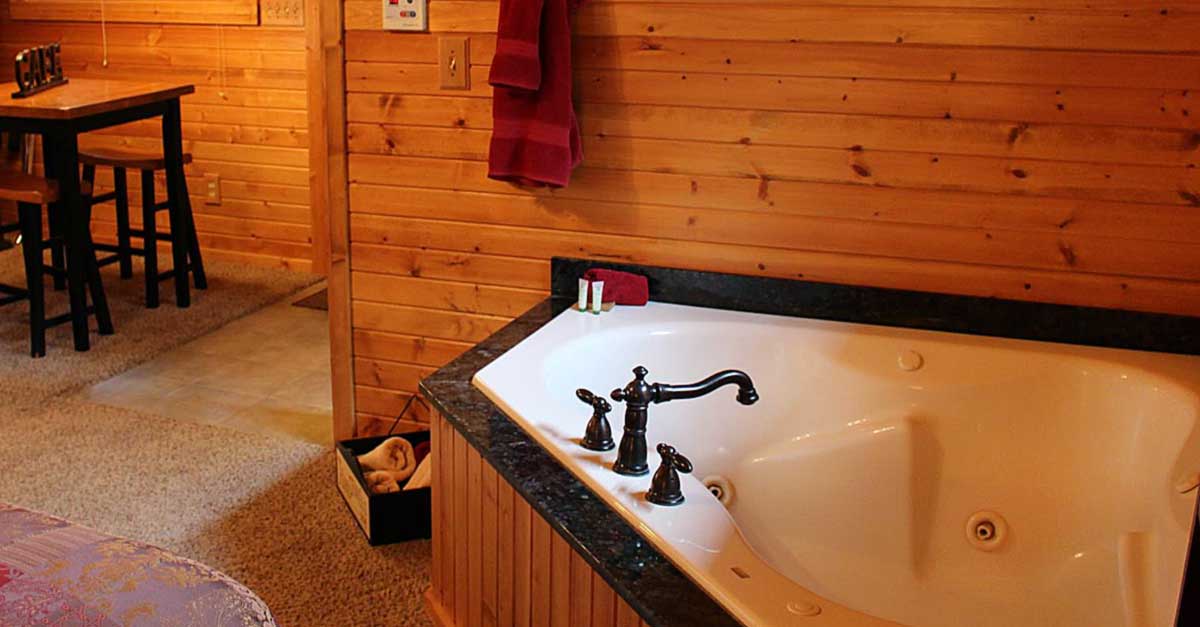 The room itself has a comfortable king-size bed, gas woodstove, whirlpool tub, bathroom with shower, table and chairs for dining, and a small area with a sink, microwave, and mini-fridge. The coffee setup took care of my morning addiction. The stove was already lit and glowing–enough to warm a frozen visitor.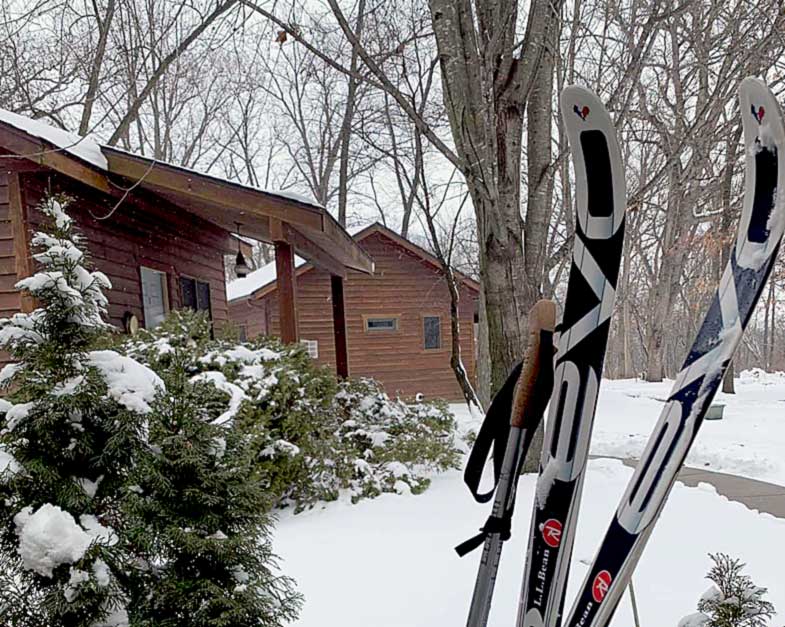 The Vidiniches are experienced and gracious hosts that guide visitors to places to see, dine and drink. The cabin and grounds–even in winter–are immaculate and cozy. Be sure to look at this cabin property via the links provided below.
In 2019, Brienna Lee wrote a blog article about this property. Click here to read it.
Contact Information
Hickory Hideaway
24366 Payne Rd.
Shannon, IL 61078, USA
Phone: (815) 864-2099
Email: [email protected]
WEBSITE
FACEBOOK | TWITTER | INSTAGRAM
---

Time to hit the road for lunch.
It was time to hit the road for lunch and then on to an intriguing antique shop (see The Mad Hatter story above) in Mt. Carroll.
The Crooked Roof is just a few miles down the road in Lanark, Illinois. The front of the building has an eclectic, unique look. It's also a favorite of the local population. Even though the weather was cold and windy, folks were streaming in throughout my time there.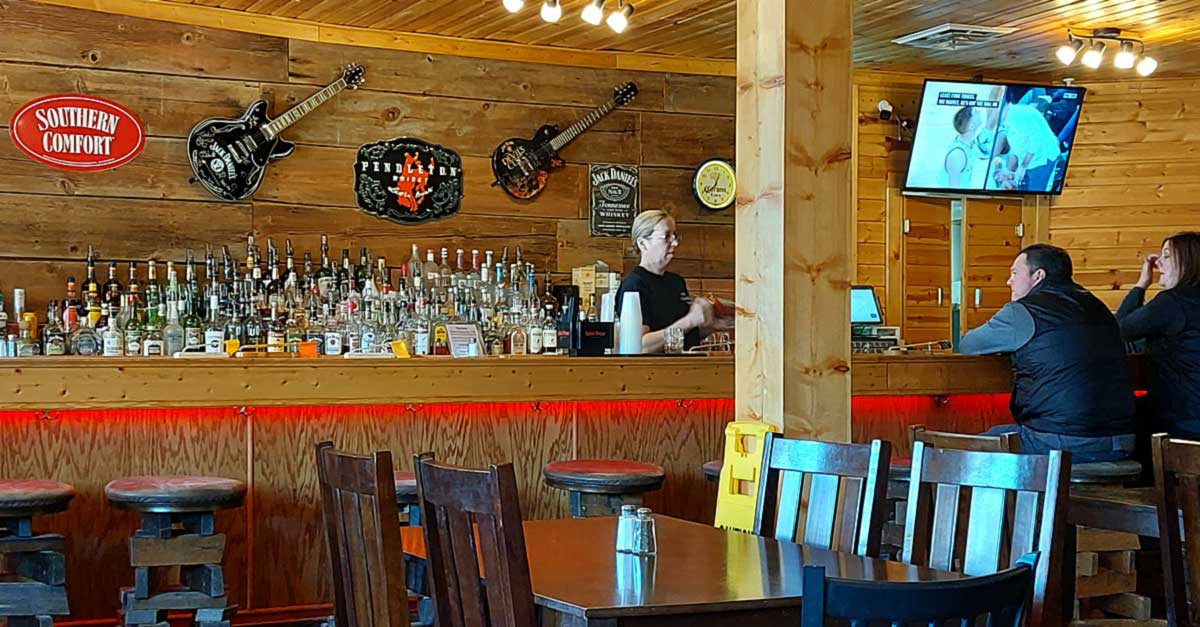 The bar is long and can fit plenty of people during a busy weekend. Our server, Jess, was helpful with menu questions and had a caustic wit. When asked if my Wassssup Burger would be medium-rare, she assured me it would. Jess didn't lie. This burger is aptly named with the 8 oz. patty topped with pepper jack cheese and wasabi aioli. Paired with fries and washed down with a cold beer, my hangriness disappeared.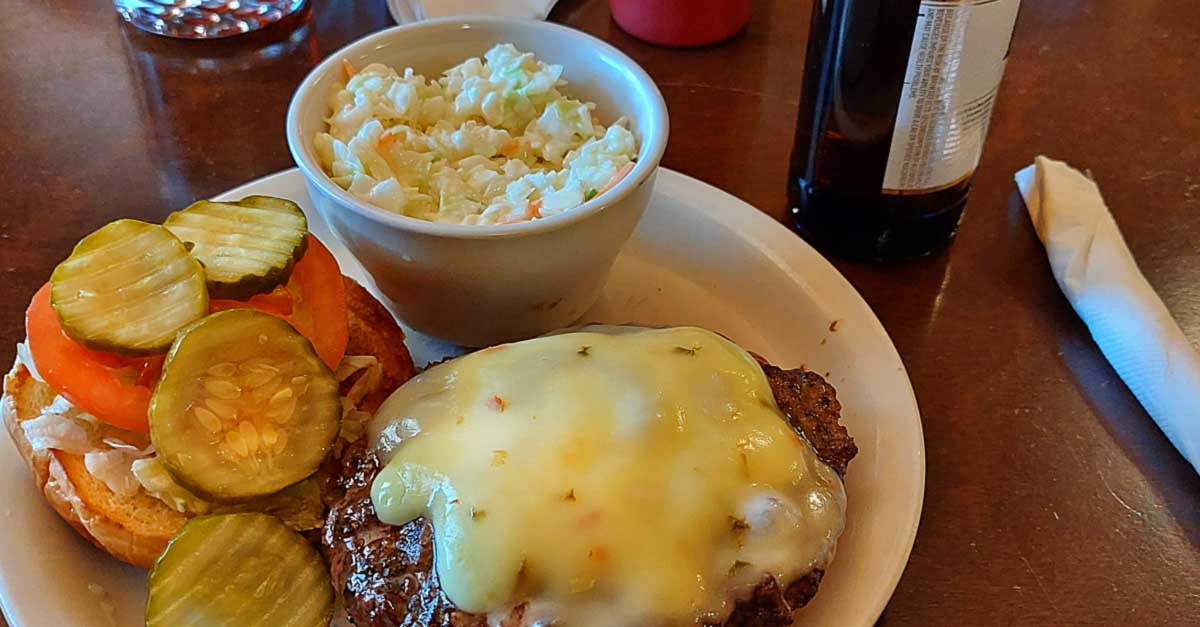 CLICK HERE for the MENU. Their hours and contact information are below.
HOURS
Monday: CLOSED
Tuesday: 11 a.m. to 9 p.m.
Wednesday: 11 a.m. to 9 p.m.
Thursday: 11 a.m. to 9 p.m.
Friday: 11 a.m. to 10 p.m.
Saturday: 11 a.m. to 10 p.m.
Sunday: 11 a.m. to 9 p.m.
Take a trip to Lanark and visit The Crooked Roof. It will be time well spent.
CONTACT INFO
The Crooked Roof
109 E Carroll St.
Lanark, IL 61046
Phone: ( 815) 493-6838
---
Time for a nap.
Once properly nourished, a road trip through the rolling hills of Carroll County brought me back to the Hickory Hideaway for some Winter Olympics' viewing and a quick nap. The wind was howling against the cabin, but it was cozy and warm inside.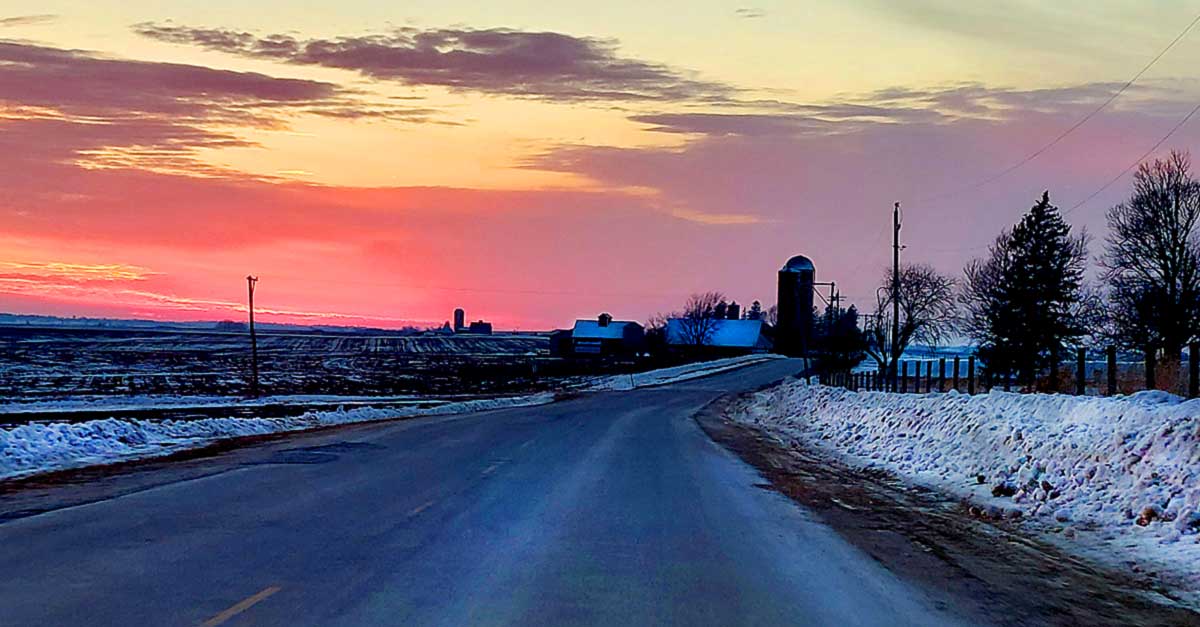 A sunset drive … picture perfect
It was time to travel to Mt. Carroll for dinner at Molly's Kitchen & Bar around nightfall. Earlier this week, I made reservations online (Open Table), which is a good thing. This popular fine dining restaurant fills up quickly.
The early evening winter landscape is worth stopping for a picture or two. The fields and sparse trees beautifully silhouetted the sunset. Photographers and painters alike will be pleased.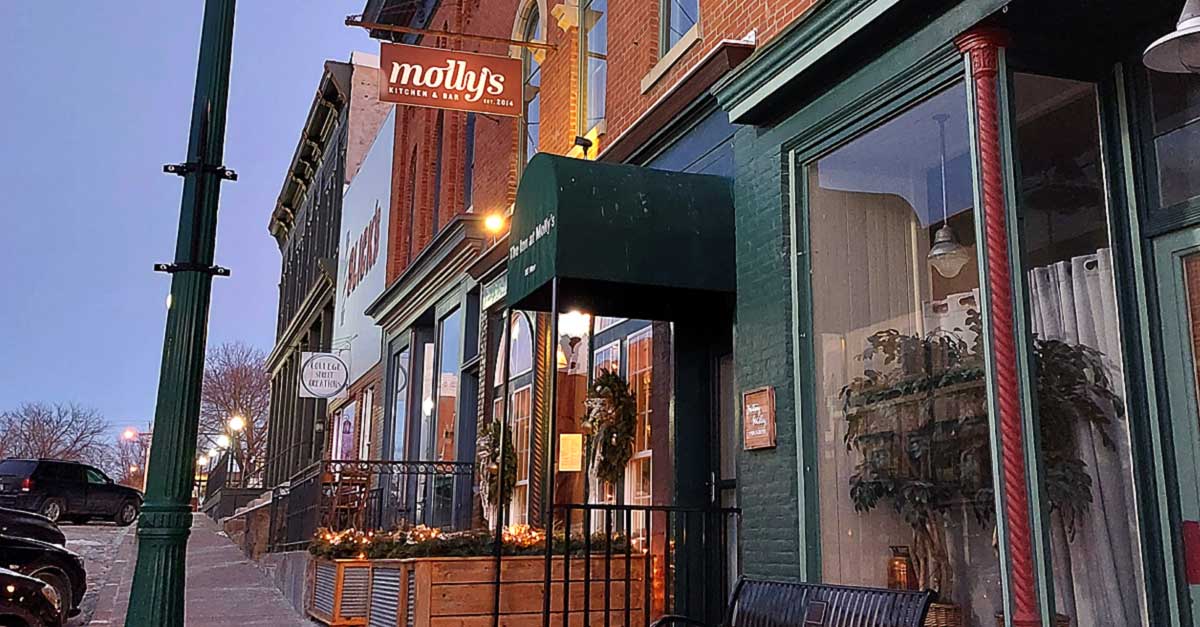 Bliss in a glass and on a plate
Once at Molly's, right next door to The Mad Hatter, the friendly host greeted us and got us to our table. Our server, also as lovely as can be, explained their cocktail and beverage list. The bartender is an artist when it comes to mixed drinks. I ordered Covered in Bees, a fabulous concoction of tequila reposado, Ancho Reyes, lemon, orange blossom honey, and chamomile tincture. Sigh.
Due to my rather large lunch that afternoon, I regrettably had to skip the appetizer but relished the Roasted Half Chicken served with crispy potatoes, harissa crema, and sauteed broccolini. My dinner companion went off his diet to order the Smash Burger and fries, served up on a brioche bun. Several people along my travels mentioned ordering their homemade ice cream no matter how full you are after dinner. So, we did. The caramel ice cream came topped with a salted caramel sauce. Goodness, gracious–it was terrific. So terrific in fact, that we finished before taking a photo.
It was also the end of a great evening. This writer went back to her cabin full, content, and happy.
CLICK HERE for the Molly's Restaurant MENU. Their hours are listed below.
To learn more about this venue, CLICK HERE for a blog article written in 2019 by Brienna Lee. Update: the bakery is no longer running.
Contact Information
Molly's Kitchen & Bar
110 West Market Street
Mount Carroll, IL 61053
Phone: (815) 906 0052
Email: [email protected]
HOURS
Wed-Sat: 4:30 pm – 9 pm
In conclusion
The weekend was eye-opening since I only experienced many of these places and views during warmer weather seasons. Winter brings out a completely different experience. Look around and discover whole new landscapes in your own backyard.
Who needs Florida? Am I right?