Rustic Oasis | White Pines Resort
There are times you need to clear your head.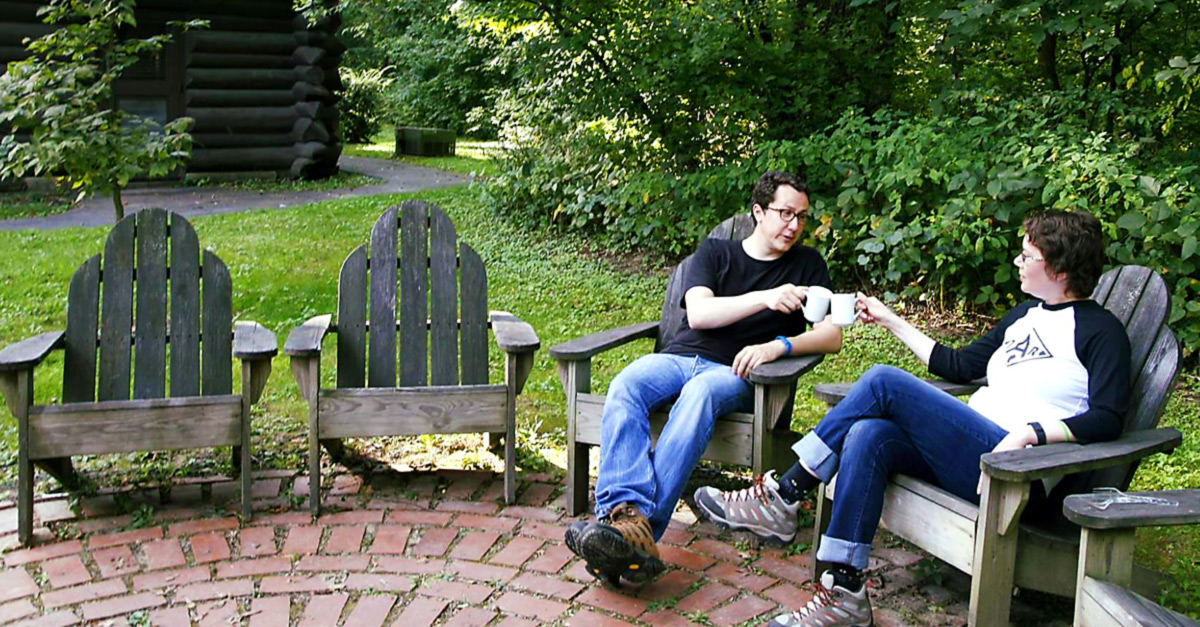 Nestled in a clearing deep in the forest of White Pines State Park — less than 2 hours west of Chicago — discover White Pines Resort.
The showpiece of the resort is a massive log lodge built in the 1930s which is home to a restaurant known far and wide for its delicious home-style cuisine, generous portions, and friendly staff. The restaurant is also host to the Pines Playhouse, a live theater experience which has been providing musical and comedic entertainment for over thirty years. Adjacent to the landmark restaurant is a charming and rustic gift shop filled with nostalgic flavors and precious mementos. Authentic, cozy log cabins provide overnight lodging just a stone's throw from the lodge.
Cabin living
White Pines Resort is an undiscovered and unexpected getaway. Twenty-five authentic log cabins resembling a pioneer village sit in a clearing among the towering pines and allow you to experience nature without having to "rough it." The cabins are modern with gas fireplaces, Wi-Fi, comfy beds and TVs. I had the opportunity to stay in one of the new Deluxe Romantic Suite Cabins that boasts a two-person soaking tub, a beautiful king-size canopy bed, and a large gas fireplace at the foot of the bed. Between the flicker of the fireplace and warmth of the soaking tub – I was in pure heaven.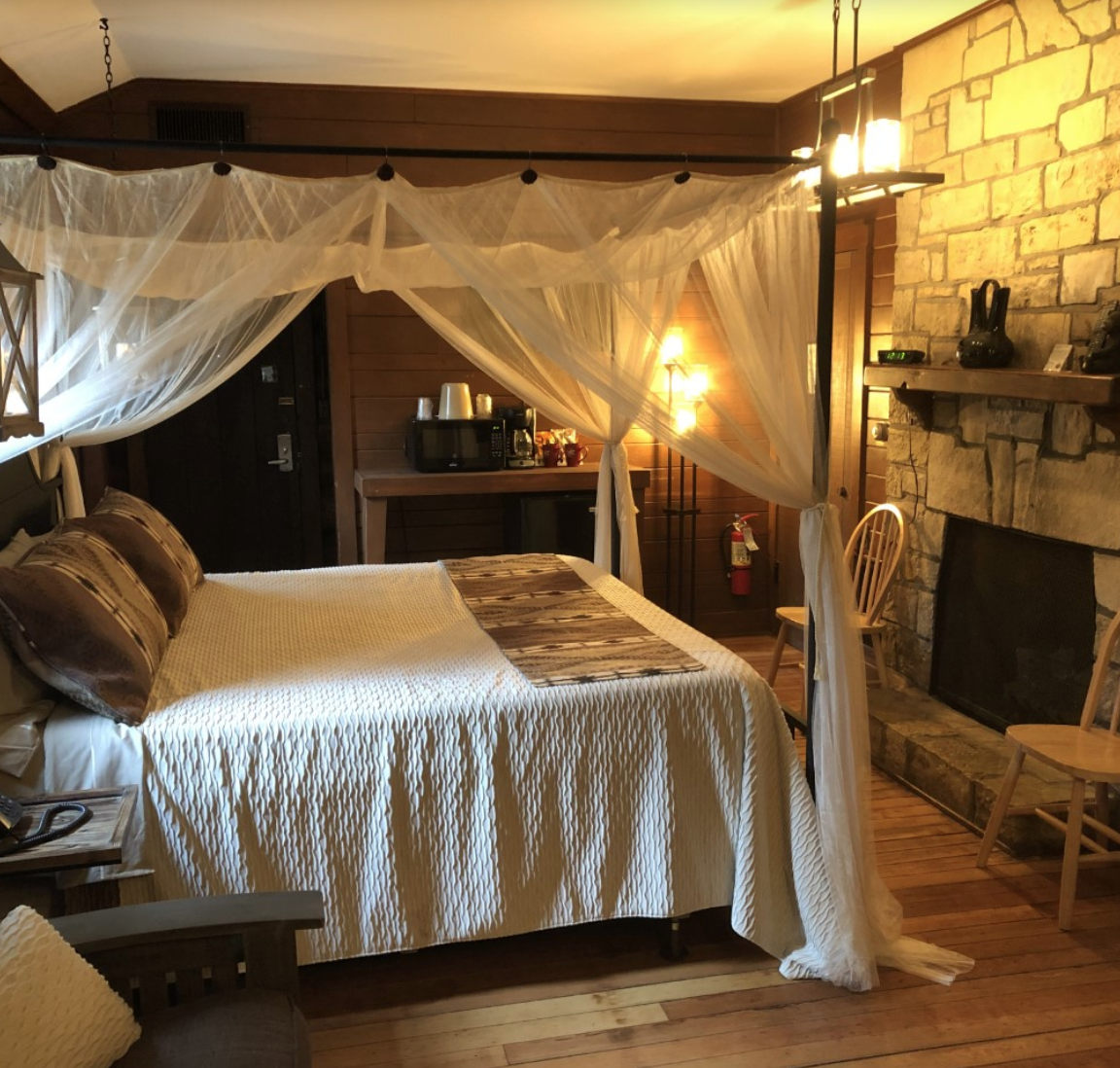 White Pines is tucked away from life's everyday hustle and bustle. It feels like one of northwest Illinois' best-kept secrets – offering a rustic and intimate feel of friendly faces, cozy dining, comfy lodging, and serene nature. Natural beauty abounds with miles of hiking trails that crisscross over bubbling streams and along moss covered limestone bluffs. This hidden gem is ideal for romantic escapes, family outings, corporate retreats, weddings, and weekend getaways. Enjoy an amazing experience guaranteed to create good old-fashioned times with family, friends, and loved ones which harkens back to a time of simple pleasures and treasured memories.
Bring sensible shoes and hit the trails
I put on my hiking shoes and set off on a few trails near my cabin. The trails were clear, easy to navigate, and not flooded with people. I only had to hike a mile or so to discover some breathtaking views. There are seven designated hiking trails ranging from easy to difficult (there is even a wheelchair trail) and the walking bridges remain a favorite for folks as they crisscross over bubbling streams. Along with the wonderful hiking, there is picnicking, camping, and bank fishing. The "Pines," as it is affectionately called, is one of Illinois' most top parks and was once named by Midwest Living Magazine as – "One of the Top 15 Best Wilderness Getaways."
All that fresh air works up an appetite
I headed back to my cabin to settle in before heading to the historic log lodge for dinner. I was told that guests travel far and wide to enjoy the resort's signature dishes of biscuits & gravy, chicken pot pie, and raspberry pie – just to name a few. The faces at the lodge were just as friendly as those who checked me in. I settled on a delicious steak dinner with two different kinds of potatoes (they had too many choices to decide on just one). They brought out a cooked-to-perfection steak and a sweet potato covered in melted marshmallows – this time I was in culinary heaven!
That's entertainment | since 1989
The Pines Playhouse has been entertaining audiences since 1989 with singers, actors, and comedians performing plays and tribute shows. These mid-week matinee performances feature talents from Branson and Las Vegas in this intimate 144-seat playhouse as they enjoy a delicious home cooked meal and professional shows. Guests are drawn from all around the country to see the Playhouse's own production of "Scrooge the Comedy." This holiday favorite has been running for 30 consecutive years and has entertained thousands.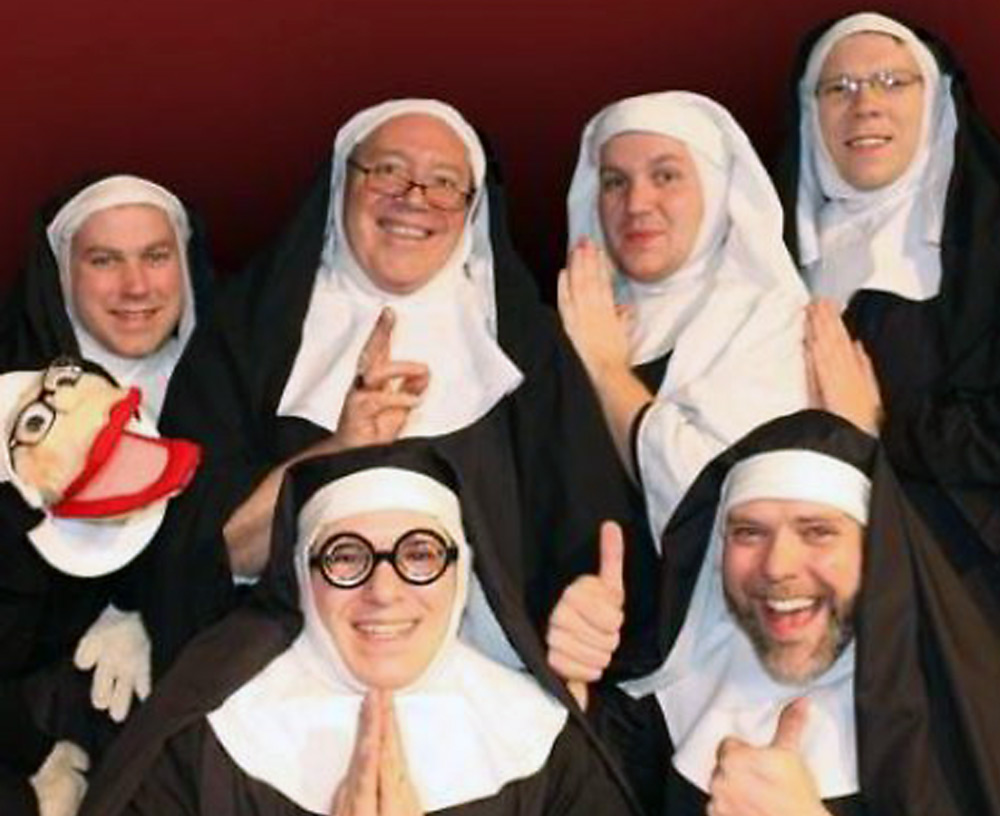 The perfect wedding venues
White Pines is also one of the top wedding venues in Illinois. The Canyon at Pine Creek is picture perfect with manicured lawns, lush gardens, dramatic limestone walls, lily ponds, and waterfalls. It's the perfect outdoor setting. Between the upper and lower canyon, there are six amazing and unique sites the bridal couple can choose from.
Two reception venues are available — White Pines Lodge and CedarStone. The White Pines Lodge in White Pines Forest State Park is settled among towering pines and allows for rustic yet elegant photos. CedarStone, the larger of the two venues, is located less than five miles from the Canyon and boasts a dramatic chalet style entrance and foyer. The cedar log walls, vaulted ceilings, and wrought iron chandeliers are elegant yet creates a rustic vibe.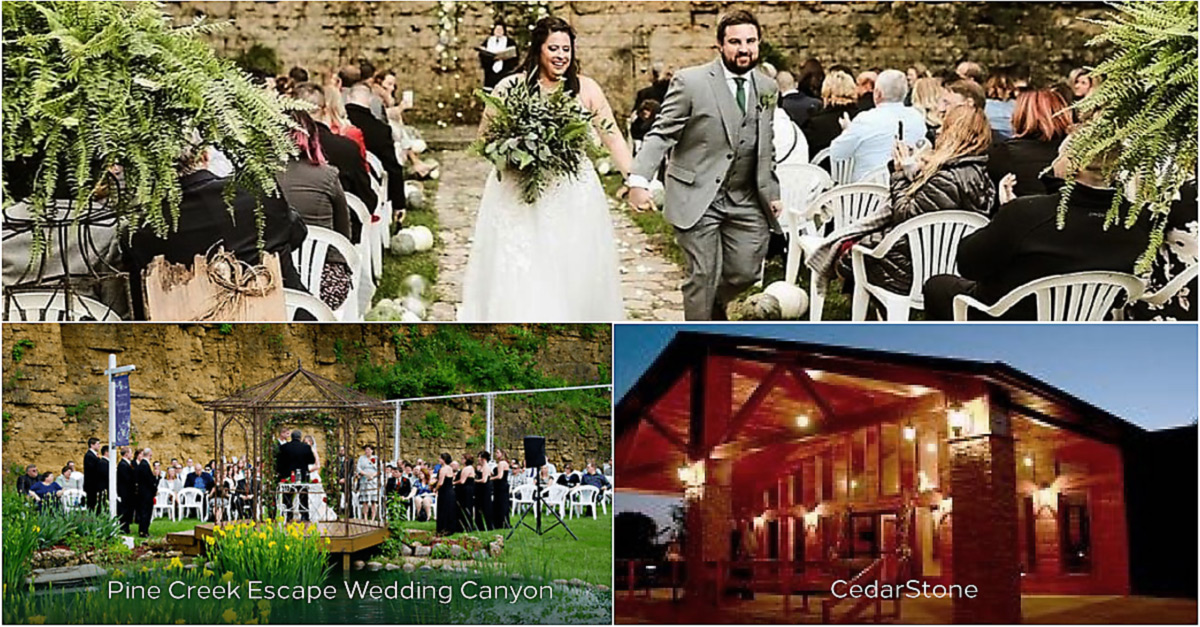 Changing hands
I had the opportunity to sit down with the previous and current owners of White Pines to talk about the history and what the new owners, Tony and Christie Brinkmeier, plan for the future. Beth George owned White Pines for 30 years before turning it over to Tony and Christie. Tony, a former financial advisor and veteran, grew up in northern Illinois and both he and Christie knew White Pines already had a good thing going. Their goal is to keep building on the current core values but add their own touch.
They especially want to start offering retreats to veterans to help them disconnect from the hustle and bustle of real life. The Brinkmeiers want to ensure that whether you're visiting for a family outing, business retreat, or a weekend trip — you have an experience to remember.
"There were no 25-cents-per-eighth-of-an-hour meters around here, no cell-phone-payable ones, either. In fact, there's not a meter to be found. Just park where you can and stay awhile."

No one will hurry you along.
Contact White Pines Resort
6712 W. Pines Rd Mount Morris, IL 61054 | 815-946-2400
Website: https://www.whitepinesinn.com/
Facebook: https://www.facebook.com/whitepinesinn
Contact Pine Creek Escape
6797 W. Pines Rd Mount Morris, IL 61054 | 815-881-1180
Website: https://pinecreekescape.com
Facebook: https://www.facebook.com/PineCreekEscape/