River's Edge Farmers Market | A fruitful partnership

Ask, and you shall receive.
When one door closes, another opens.
The River's Edge Farmers Market is not Oregon's first outdoor market. The Oregon Park District (OPD) ran a farmers market through 2020. The City of Oregon saw an opportunity when the OPD could not continue its market due to the impending closure of the Exelon Nuclear Plant in Byron and the resulting lack of funding.
In January of 2021, Mel Cozzi, Oregon city commissioner, first reached out to Liz Hiemstra to be a vendor at the new market. Hiemstra owns Libra Farms and has a booth set up each week. Cozzi also expressed the need for help to get the venture up and running. You know how the old saying goes, "If you want something done, ask a busy person to do it."
"I knew I was going to need a partner, and she was a no-brainer for me to ask," said Cozzi.
As volunteer co-managers of the River's Edge Farmers Market, Hiemstra and Cozzi have the energy and drive to get the market's inaugural year off the ground.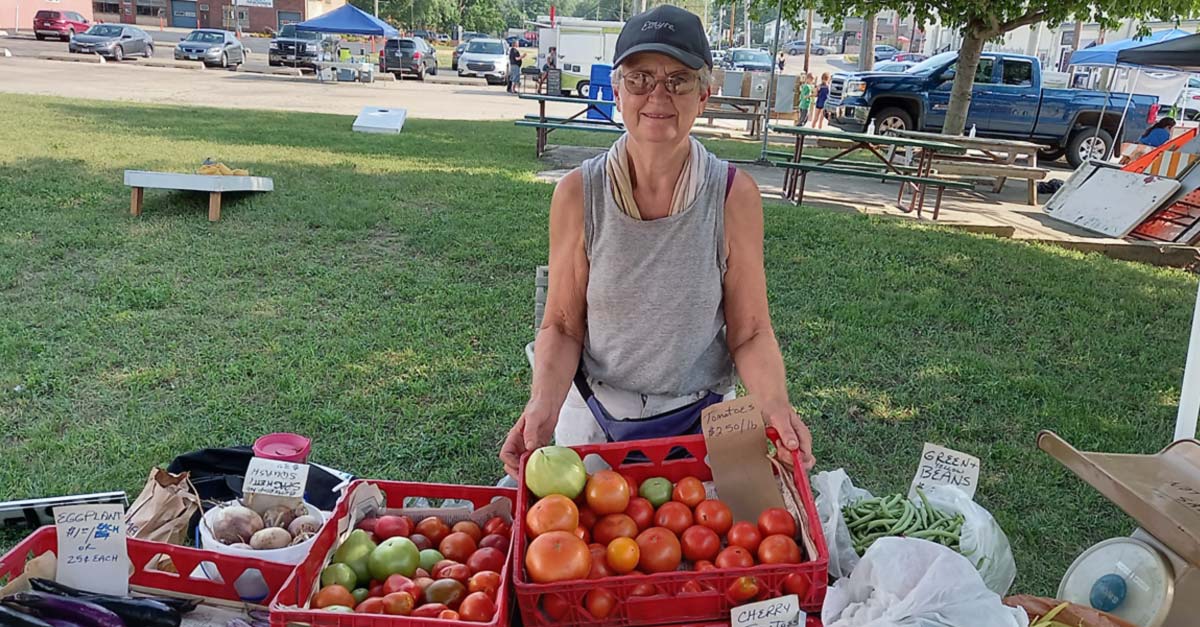 It's all about Vendor love.
The first market date kicked off on June 3 and continues every Thursday, 5-7:30 p.m., through September. Volunteers assist Hiemstra and Cozzi whenever extra hands are needed. During 2021, vendors do not have to pay fees to participate. However, the market will implement an undetermined price in 2022.
A wide variety of vendors, typically 20-25, are set up each week, along with two to five food truck vendors. There is no excuse for going hungry. The exhibitors consist of several produce vendors and vendors selling locally raised meat, soap, baked goods, and various handmade crafts. River's Edge Farmers Market recently welcomed a vendor that grows hemp and sells CBD products.
"We would also love to add fresh eggs and other dairy products, such as cheese," remarked Hiemstra.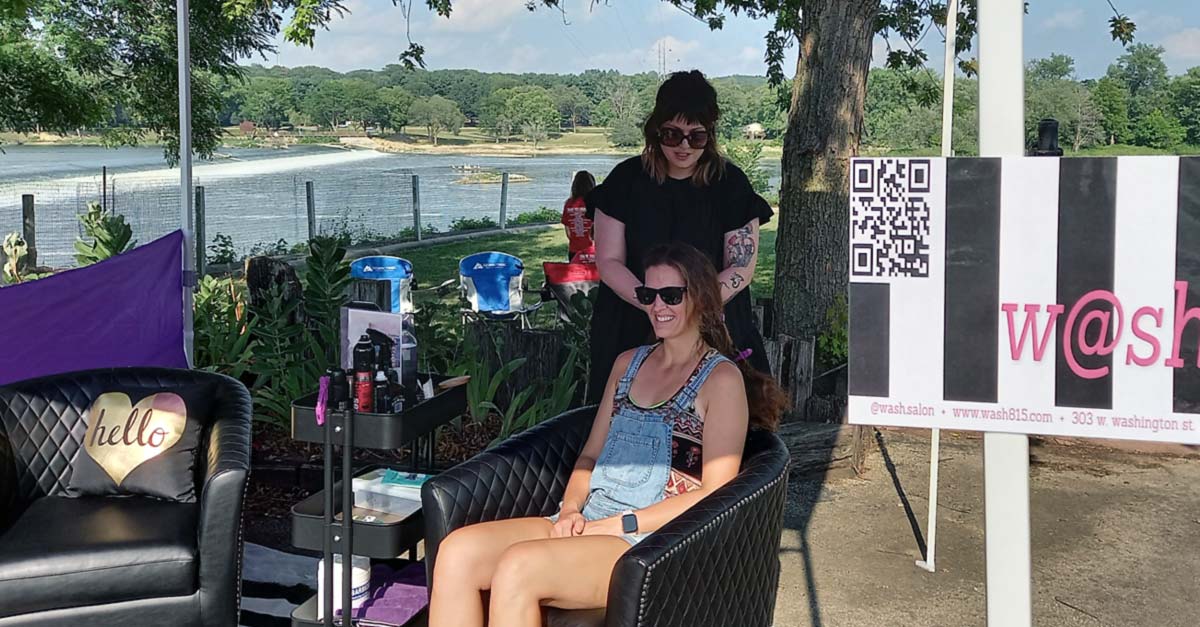 Another new vendor offers a unique service to those visiting her booth–hair braiding. Meggan of W@sh Salon in downtown Oregon braids hair at her booth, with all donations going to charity.
Expect the unexpected.
As with any outdoor venue, the weather is fickle. Early to mid-June was quite hot and sunny this year, making the first few markets downright sizzling. Hiemstra and Cozzi adapted by moving vendor spots out of the direct sun and creating shady areas. An added hot-weather perk were sprinklers for the kids to cool off.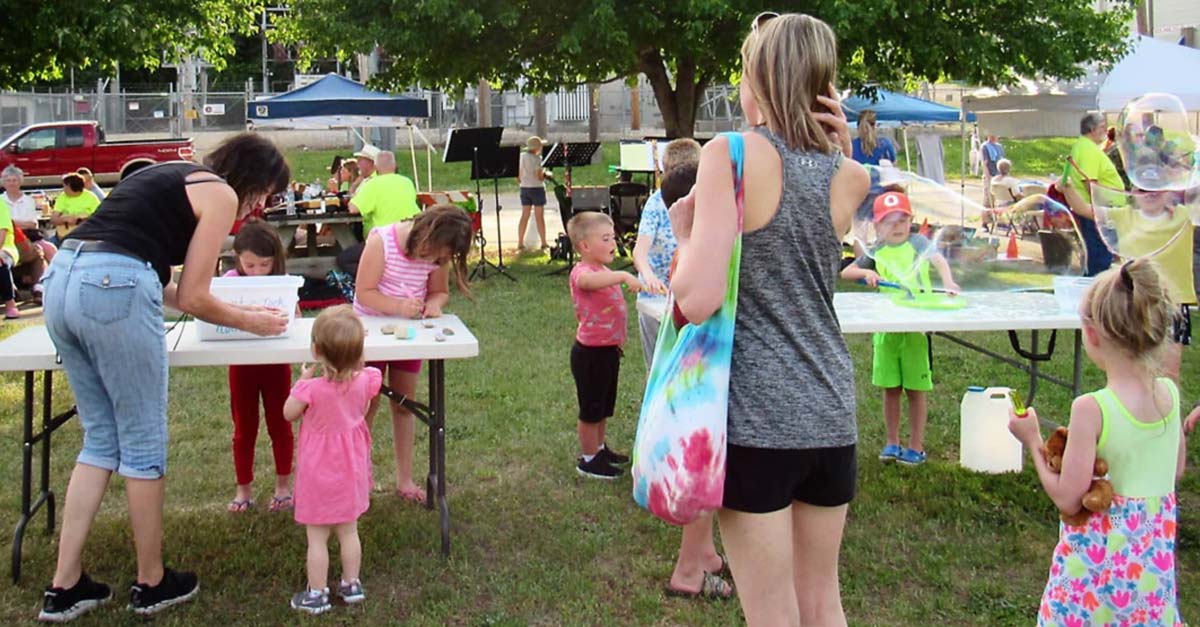 You can't forget the kids.
Besides the sprinkler setups, the younger set has various activities each week. There are materials for chalk art set up on one of the pathways at the market. "By the end of the evening, the sidewalk fills with art created by the kids," mentioned Hiemstra.
The OPD and some local non-profits get in on the act by providing a children's activity each week.
Feel-good stuff.
Oregon is a community filled with optimistic folks. The markets have high turnouts each week. River's Edge provides live music on most market nights. Some dates were left unfilled during this first year, but Hiemstra and Cozzi plan to rectify this for 2022.
"I wouldn't say the community response was entirely surprising. We have wonderful people in this area–but we've been pleasantly surprised with the continuously high turnout and support offered to the market and our vendors," said Cozzi. "The market is off to a great start, and more vendors keep asking to join in on the fun!"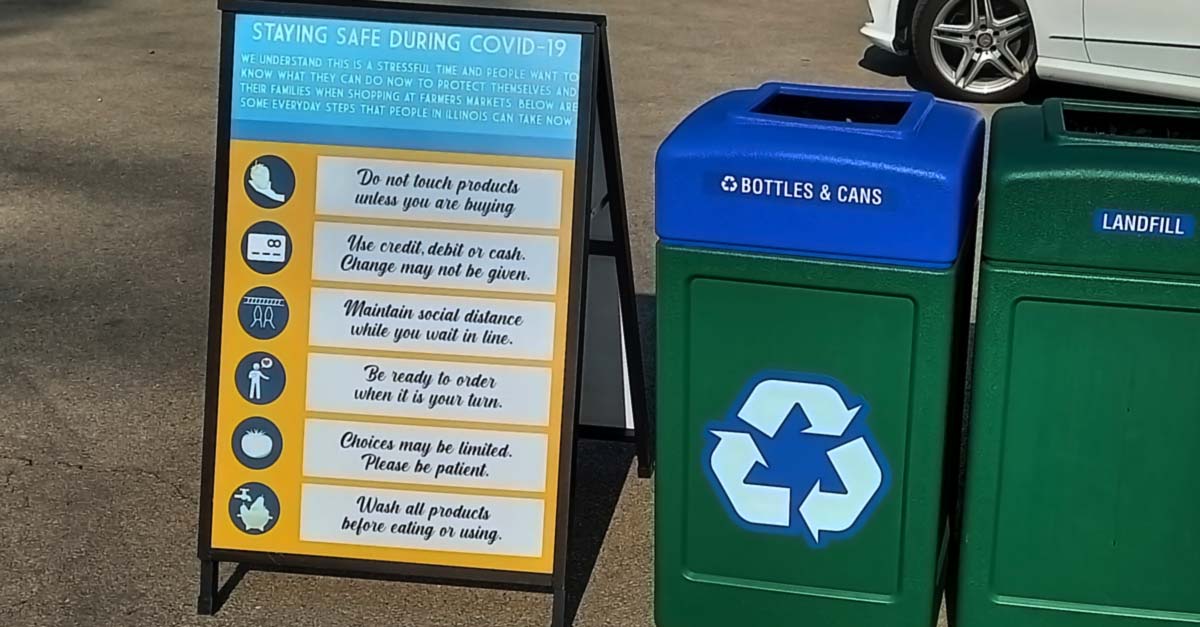 Feel safe during the pandemic
The market has a variety of ways to keep its patrons safe and healthy during these uncertain times. Did you forget hand sanitizer? They have plenty to share. Safety measures are posted for all to see. Bring your mask, especially if state COVID mandates strengthen.
SNAP!
Just recently, the market became approved to accept SNAP benefits. "One of our huge goals, in the beginning, was to be able to offer local produce and healthy food to people who can't afford it at the grocery store, markets, or otherwise," said Cozzi.
Pet friendly?
Many markets request that patrons not bring their fur babies, but not so at the River's Edge Farmers Market. Well-behaved dogs are allowed.
"We're pet friendly if they are friendly pets," said both Hiemstra and Cozzi. So far, there have been no issues with unruly animals.
Looking ahead to 2022
The underlying goals with the market are to promote local foods and artisan goods and offer education on sustainable actions everyone can do. This includes buying local. As the 2021 season progresses and gets into a routine, Hiemstra and Cozzi look at new ways to present these goals in a fun way. A few more goals to hit in 2022 are:
Live music every market night
More children's activities
More sponsorships
Local businesses or individuals wanting to be a sponsor for 2022 can reach out to Cozzi by email at [email protected].
With the guidance and support of the OPD, the city has produced a thriving first-year farmers' market. "It has been a wonderful partnership," said Hiemstra.
Contact Information
River's Edge Farmers Market
2nd & Washington St.
(behind the Oregon Fire Department)
Oregon, IL 61061
WEBSITE | FACEBOOK | INSTAGRAM
Phone: 815-732-6321
Hours of operation:
Thursdays, 5-7:30 pm