Shaken – not Stirred | Pub 225 in Milledgeville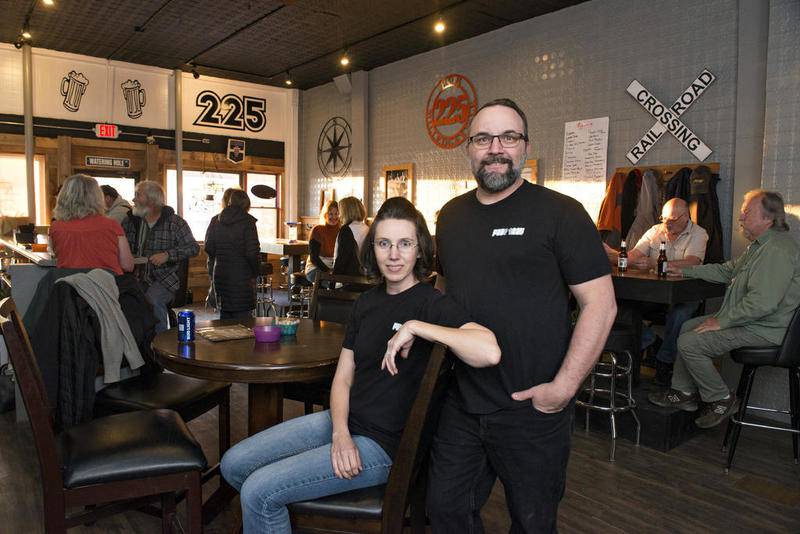 Cheers in Milledgeville
Everybody's got one they love…. that place where you come as you are, relax, and enjoy time with friends. In the small town of Milledgeville – a population of 1,032 – sits just the place. After opening in 2017, Pub 225 has grown to become a popular spot and even a destination for something that may be hard to find in the rest of Carroll County – martinis.
Jamie Emmert and her husband, Jason Schmidt, saw a need for something different in Jason's hometown of Milledgeville. A vacant beauty shop at the corner of 310 Main Street came up for sale and they knew what they had to do. The building needed a lot of work but they had a vision and started peeling off layers of the interior which revealed the old building's tin ceilings and walls.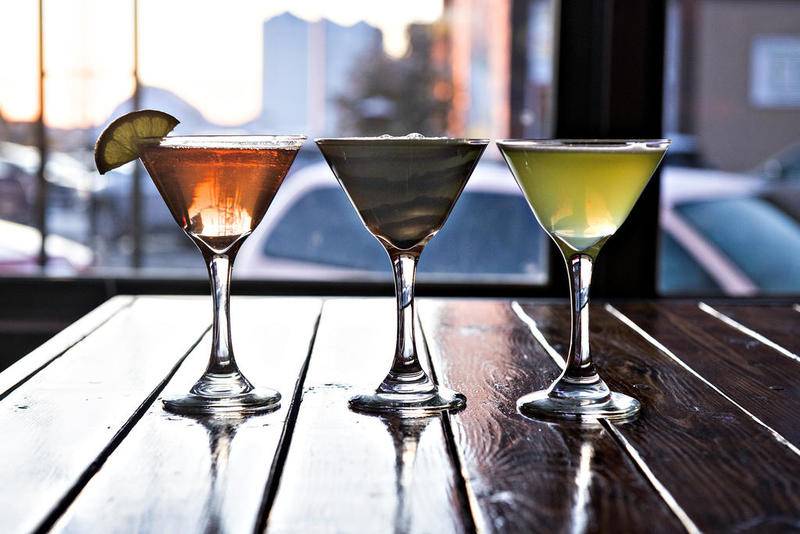 It's all about the martinis
They wanted a name that would reflect the history of Jason's beloved hometown and decided to incorporate the first three numbers of the village's telephone system "225." They opened up with the simple motto of "Come in as strangers, leave as friends" with your standard beer and shot offerings but knew they needed something more. They started with five martinis on the menu and surprisingly, within the first year, they sold more martinis to men than women.
As the martinis took off, so did the number of suggestions and ideas for new flavors from their devoted customers. They started incorporating new creations such as the "Missile" named after Milledgeville's school mascot and seasonal martinis like the Drunken Pumpkin, Sugar Cookie with Frosting and Sugar, Jack Frost with a coconut rim, and even a Dill Pickle Martini substituting an olive for a pickle. At only $5 each, the martini's are a steal and their martini menu includes over 30 different creations such as lemon drop (my favorite), cherry blossom, cucumber citrus, gummy bear, salted caramel, coconut cream, pineapple upside-down, just peachy, appletini, sour apple jolly rancher, and more.
Their smooth martini recipes are what make Pub 225 so popular, bringing people from all over the area and even nearby cities to visit the unique pub in this small village. Jamie and Jason are pretty good at "shaking things up" but that's not a title they take lightly. Jamie took online classes and is now a certified mixologist. To earn this certification you have to have an understanding of different types of liquors, flavor profiles, and how to adjust them to create that perfect balance.
Jason and Jamie are extroverts and as we walked in we were greeted with big smiles. As Jason handed us the menu and pointed out his favorites, I asked if he was the professional mixologist to which he laughed and said that Jamie was the master mixologist. We decided on Caramel Apple and Chocolate Covered Strawberry martinis for our first round – you won't be able to have just one. When I order a martini I'm always a little nervous to take that first sip because many times it can be a mouth full of strong liquor taste, but to my surprise, it wasn't that at all. The ones I sampled were smooth without a strong, overpowering alcohol taste.
Not a martini fan? Pub 225 carries bottled beer, mixed drinks of all kinds, and soft drinks.
Enjoy the patio during warm weather
Even in the midst of the pandemic, Jamie and Jason continue to expand the services offered by Pub 225 and they now own a mobile bar service that provides their famous martinis & other drinks at weddings, receptions, and other offsite events. Pub 225 doesn't have a kitchen but they offer snacks & bar food such as mozzarella sticks, pizza, BBQ pulled pork bites, tater tots, and a few other finger foods. In the summertime, they offer amazing outdoor seating on their patio where they can also fire up the grill.
Pub 225
310 N. Main Ave
Milledgeville, IL 61051
(815) 973 – 3981
Hours:
Monday – Thursday: 5:00 PM – Midnight
Friday – Saturday: Noon – 1:00AM
Sunday: Noon – 10:00PM