More than a room | Lincoln Way Inn B&B
Speechless.
It would be impossible to exaggerate when I say the Lincoln Way Inn Bed & Breakfast is absolutely STUNNING. This historic property has been completely restored and brought back to life with upscale, luxury accommodations that include organic bedding and linens, locally sourced all-natural farm to table home-cooked breakfasts, cedar sauna, hand-tiled marble bathrooms, indoor and outdoor fireplaces, and much more. The owners remain steadfast in their efforts to be good stewards of history, guest comfort and the treasured flora and fauna of the region.
What's old is new again
The Lincoln Way Inn is one of those properties you can't drive past without slowing down to admire. The restoration of this 1912 home is stunning inside and out. The Inn found new life when Lisa and John Ayres of Chicago bought the property with plans to turn the 104-year-old property into a luxury bed and breakfast. The renovation of the three-story, 7,200-square-foot house took about a year and a half to complete. All contractors on the project were local. The paint came from the Sherwin Williams store in Dixon. Happily, the Inn ended up being featured as the cover story on the national Sherwin Williams industry magazine, Professional Painting Contractor.
The Lincoln Way Inn has also been designated as one of the properties on the "Select Registry" which is a diverse group of independent properties that deliver a high level of personalized hospitality–unheard of at large chains–and offer a quality experience that only a select few can attain.
Lisa and her husband bought a 110-acre property that didn't have an address and came out every weekend for four years. Lisa, who has a background in non-profit work and is passionate about preservation, had driven past the home hundreds of times and it had been for sale the entire time. One day while driving past the property she had an epiphany and knew what she was meant to do. She called the realtor, walked through the house and could see a future for this property – serving farm to table breakfasts, hosting weddings, yoga retreats, and helping people unplug from a busy life.

Five-Star Treatment
I stayed in the beautiful Sandburg Suite, which is named for Carl Sandburg, an Illinois author and winner of three Pulitzer Prizes in writing and poetry about Abraham Lincoln. The suite features its own fireplace and spa bathroom with a claw-foot tub and rain shower. Upon arrival, I was greeted with fresh flowers, organic robes, slippers and linens, and all natural "BeeKind" products that are homemade by Lisa using their farm's honey.
I was eagerly welcomed by Jodi, one of the Innkeepers. She showed me the grounds and told me the history of Lincoln Way Inn. Jodi checked me in and, to my surprise, told me a garage space comes with each room. After handing me a garage door opener I was given a full tour of the three-story house. It was an unusually quiet night. Since I was the first guest to arrive, she let me see each of the five rooms. Each is locally themed and has its own unique design and décor–all hand selected by Lisa. If Lisa ever gives up being an Innkeeper, she could easily go into interior decorating. Her hand-selected items from the bedframes and rugs to the most amazing pillows you will EVER lay your head on, are incredible. Entering each room was like entering a high-end interior design showroom or a Pinterest board come to life.
Disconnect from the day-to-day
When you're not decompressing in the cedar sauna, taking a hot bath in a claw-foot tub, or ending your evening around the outdoor fireplace, there's plenty to do and see around the Inn. You can choose to completely relax and be pampered with massages and facials but if you are an adventurer and outdoor enthusiast there are limitless options in the Franklin Grove area year round such as renting a bike, hiking, canoeing, bird watching, snowmobiling, antiquing, dining, wineries, horse-drawn carriage rides, history, live music, native bison, and even bee-keeping! Fitting them all in is the hardest part. From June – September guests can sign up to help harvest, extract and bottle honey at the Ayres property located just 3 miles away and they supply the bee suits and gloves!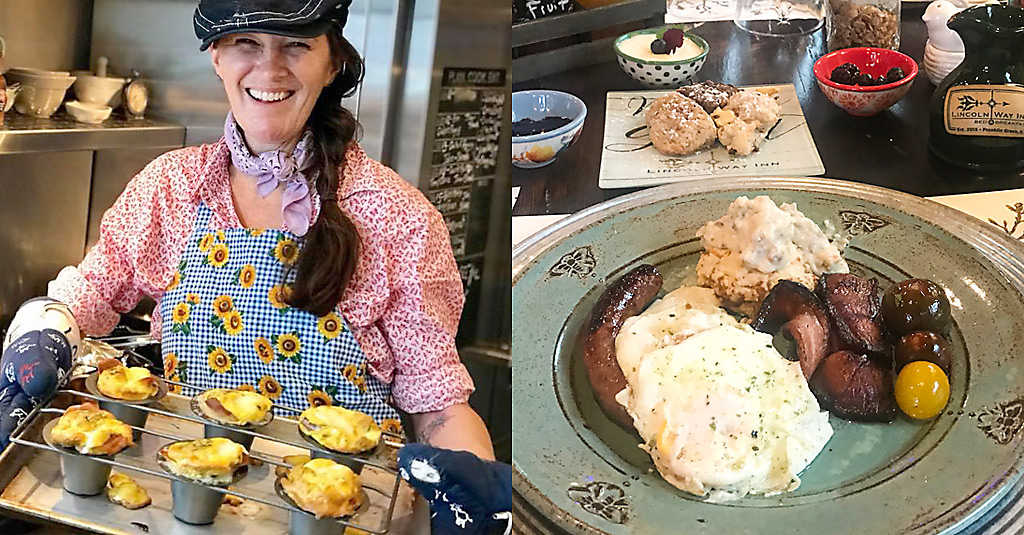 Farm to table breakfasts
Guests are treated to a home-cooked breakfast made from locally grown and produced products. You can choose where you would like to dine – outside on the garden patio with a morning fire, in the dining room, on the front porch or they will even serve breakfast in bed. Lisa invited me to join her in the kitchen and talked about where some of the products came from and how important it was to support local farmers. Everything is local from their breads, meats, and garlic, to their own homemade honey. Needless to say, the breakfast was outstanding! Lisa set up a full breakfast of homemade scones with berry jam, yogurt with fresh berries and homemade granola, bacon, sausage, eggs with homemade seasoning, biscuits and gravy, and a selection of five different juices. In addition, she grinds coffee beans and steeps the most amazing coffee I've ever had.
Lisa's husband has re-coined the term "it takes a village" to "it takes a Grove." The entire staff loves what they do and go out of their way to offer an unforgettable experience. They want their guests to take away a memory they can go to when they return to their busy lives – that moment of pure zen and relaxation – with hopes they will visit again.
Visit
LINCOLN WAY INN BED & BREAKFAST
409 N. State Street
Franklin Grove, IL 61031
815.456.7700 / [email protected]