Forest Inn | Supper Club Ambiance is King

A dining tradition since 1934
Residents in and around Whiteside County cherish the Forest Inn. Many travel the roads to Morrison, Illinois, weekly for a dinner menu that harkens back to the early days of supper club dining. Owner Ajdin Bajrami works the floor every night, greeting his guests. It's a tradition that encompasses a generation or three.
"My dad's always worked the front of the house," said Almir Bajrami, Ajdin's son. "Parents came in with newborns or toddlers 25 years ago, and now these children are coming in with their kids."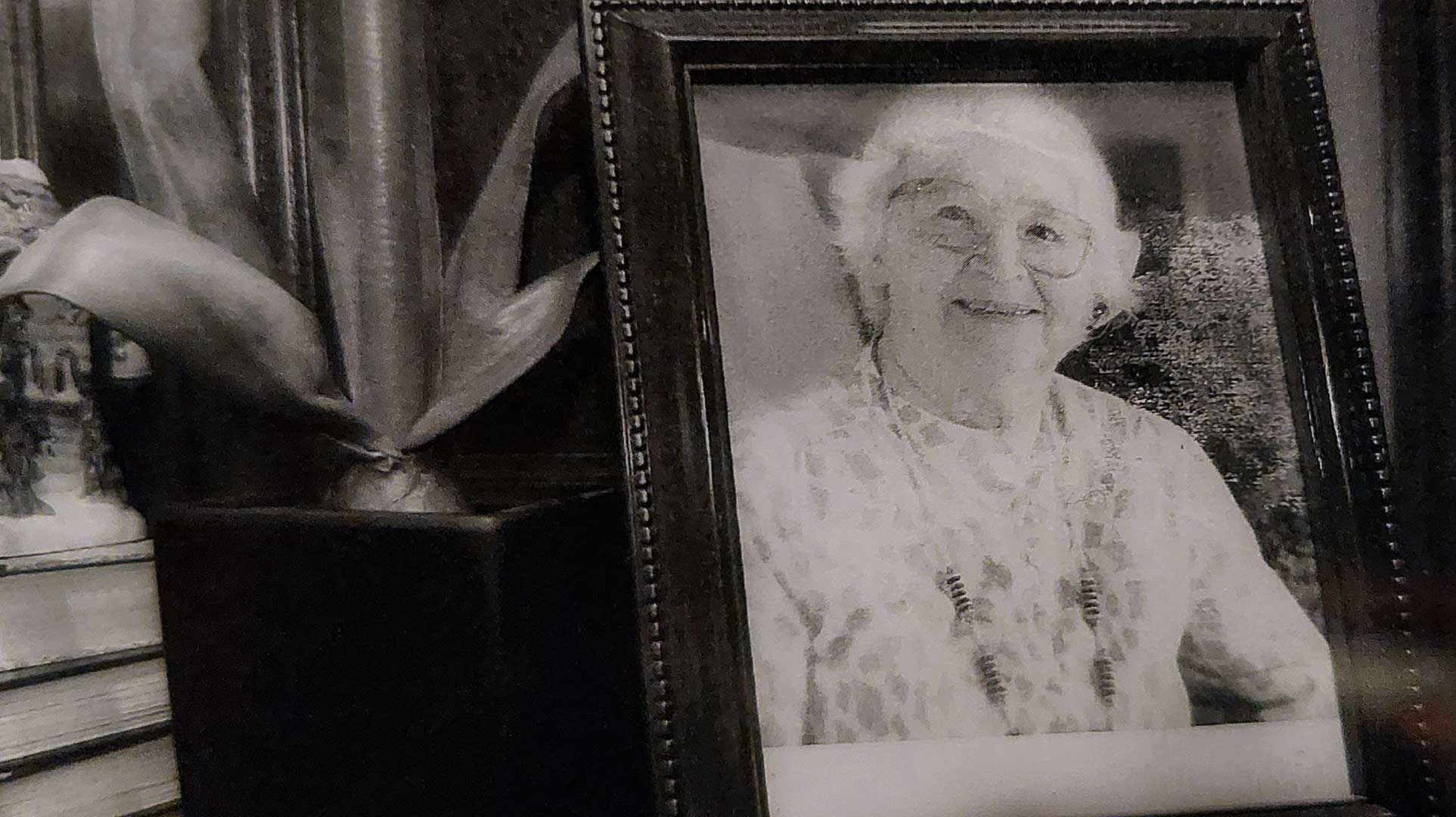 The Forest Inn Restaurant began in 1934 by the original owner, Irma Ritzman (above). Legend has it the restaurant was named after her son, Forrest, with a slight spelling difference. Irma ran the business until selling to Bajrami in 1993.
Ajdin Bajrami, originally from Macedonia, was working in Alaska before deciding to move near family in Sterling, Illinois, and purchased the Forest Inn. Many of his family members were still living in Macedonia at the time. In order to be together and help with the business, his sons, Almir and Atem, in particular, moved to the U.S. and started working with the senior Bajrami. Almir works in the kitchen, and Atem runs the bar to this day.
In 1997, Bajrami leased out the building to another restauranteur. By 1999, this person couldn't make a go of it, and the Bajramis took the business back. Major renovations and remodeling started at that time. The improvements took almost a full year. In June of 2000, Bajrami reopened the restaurant and it has been running continuously ever since–except for COVID closures in 2020-21.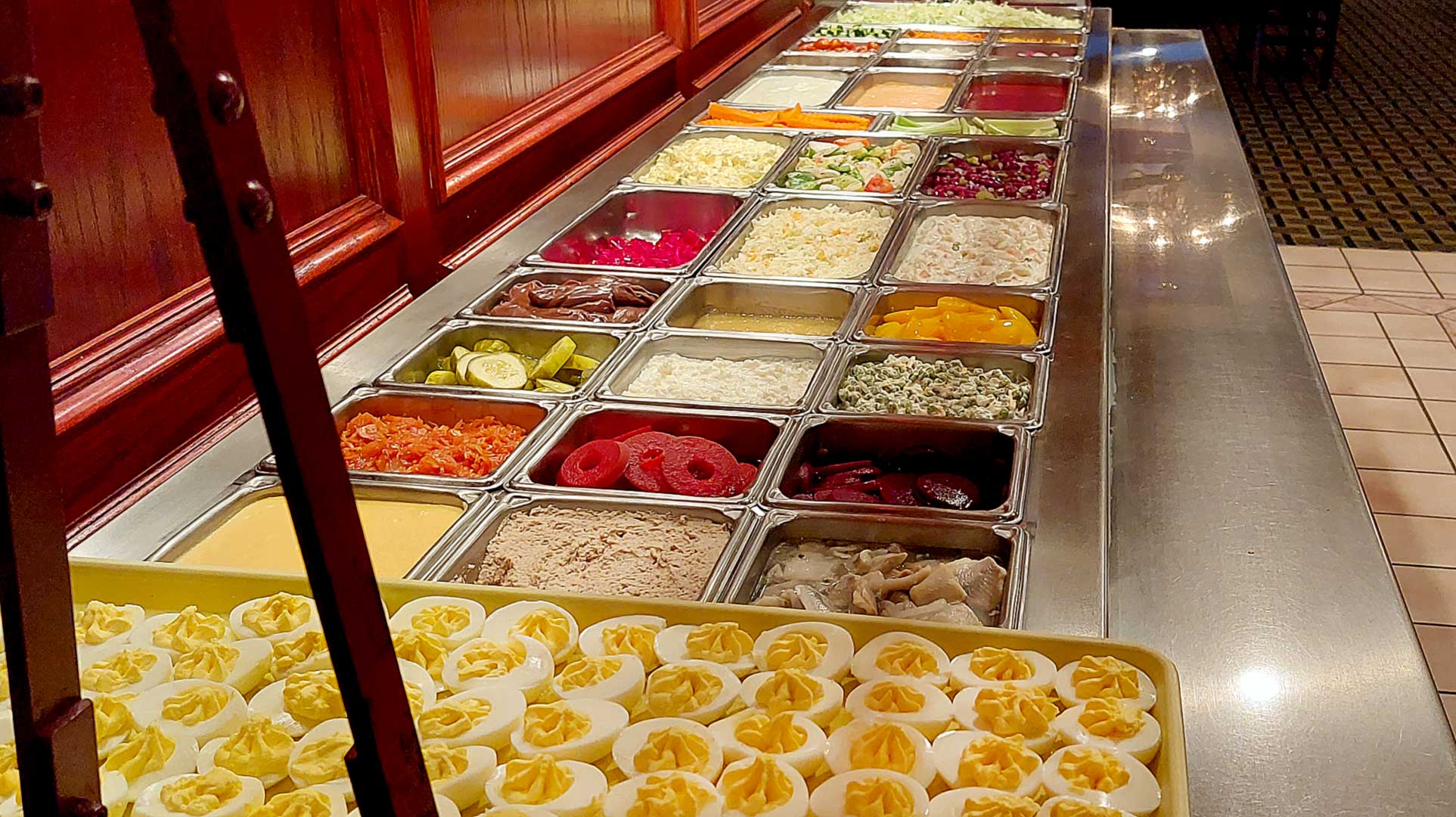 Supper club atmosphere–with a salad bar
The Forest Inn's mainstay has always been steaks and seafood. When looking over the current menu, steaks and seafood are the stars of the evening. The fried chicken looked fabulous, too.
One significant addition to the menu came into existence right around 1985–the salad bar. With over 34 homemade items, long-time customers are hardly ever disappointed that a favorite item is missing. "Our customers love the salad bar," said Bajrami. "Some favorite salad bar items are pasta salad, liver paté, and potato salad." The item that caught my attention the first time was the deviled eggs. They make a lot of them.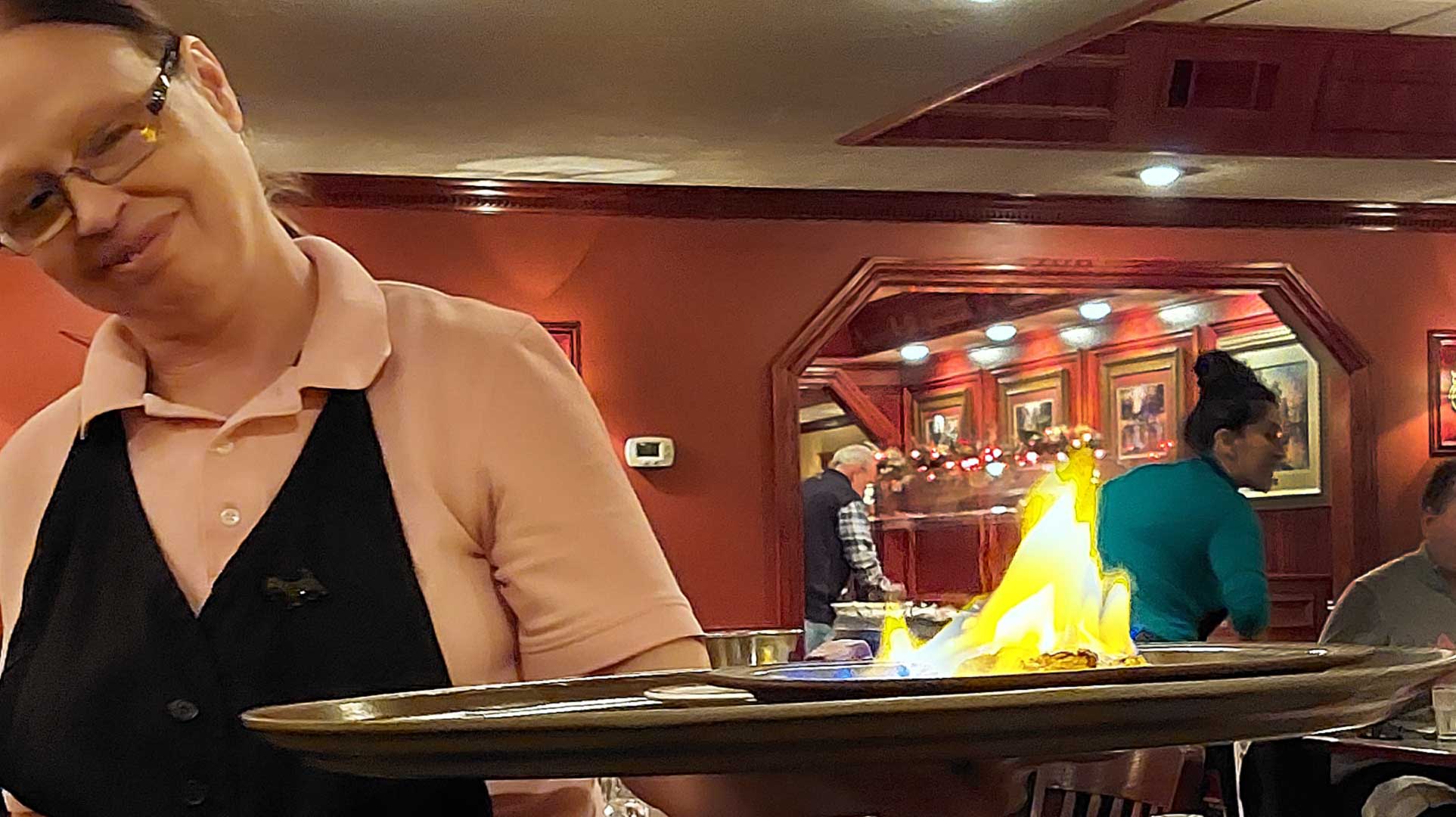 Opa!
We had a comfortable booth for four people. First, we put our drink and appetizer orders in–priorities. Our appetizer was a real throwback to the 60s, Saganaki. Cheese is always a welcomed food group but set it on fire, and the evening has just turned special.
Once the Saganaki disappeared, our dinner entrees were ordered. Three of us ordered steaks, and one ordered salmon. We then happily got in line at the salad bar. All 34 items are made fresh daily. Mr. Bajrami is correct. The liver paté was in high demand. However, I snagged more than my share of spiced apple rings and deviled eggs. It's a weakness. All of our entrees were spot-on delicious.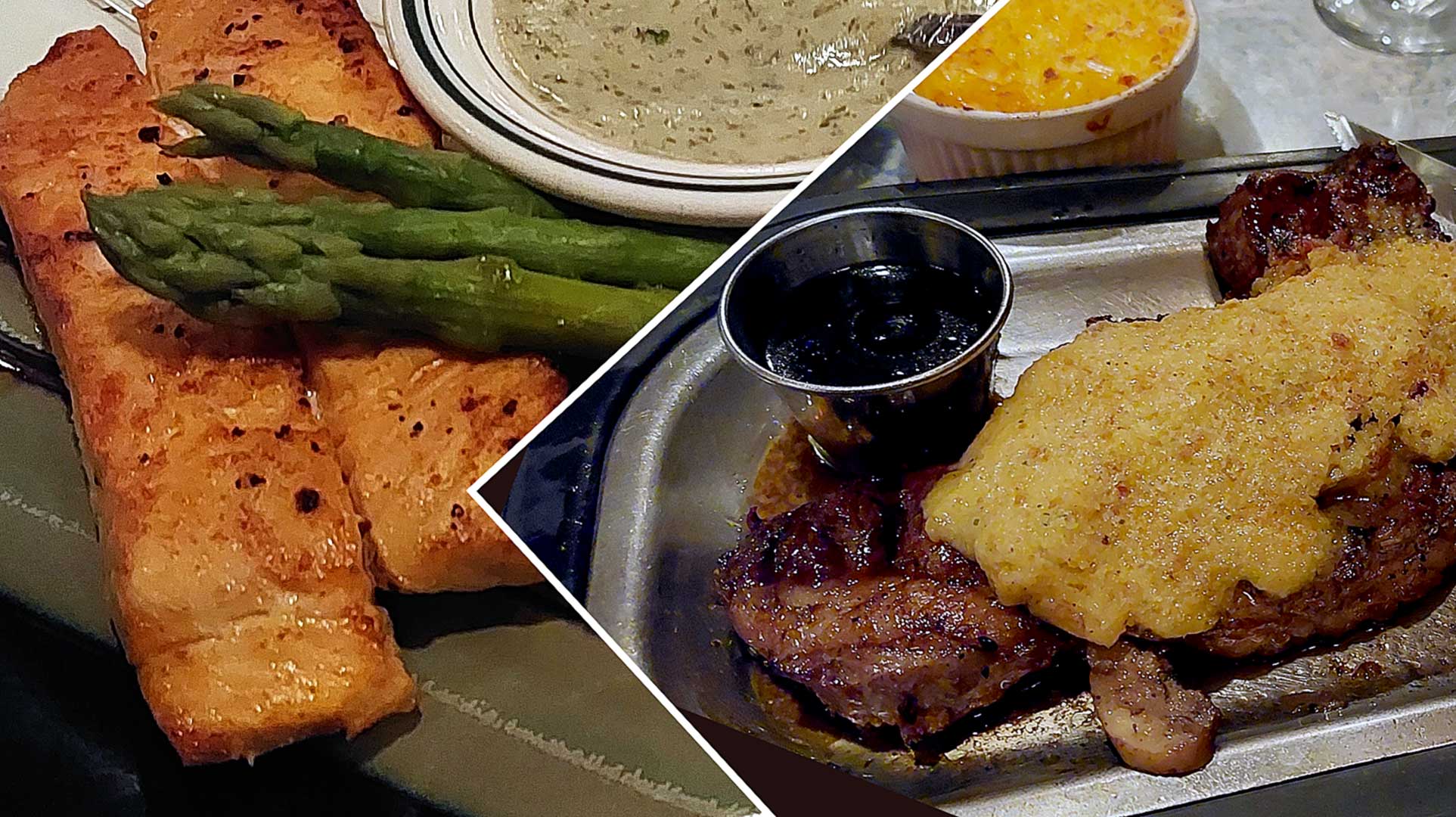 The steaks are offered with two different toppings, Paris Style or Bourbon Style. The Paris Style is a popular topping of mushrooms and their own De Jonghe butter sauce (garlicky bread crumbs and butter). Bourbon style is a sweet and spicy bourbon sauce slowly reduced with fresh mushrooms. My steak had the Paris topping and fresh mushrooms–a fine choice. The steak portions were quite large and all of us took the extras home to be enjoyed the next day.
With glistening wood, chandeliers, and a fireplace, the restaurant's ambiance transports visitors to the heydays of supper clubs. The restaurant has a capacity of up to 200 guests. The lounge and bar area is spacious, providing plenty of space to enjoy a drink before or after dinner.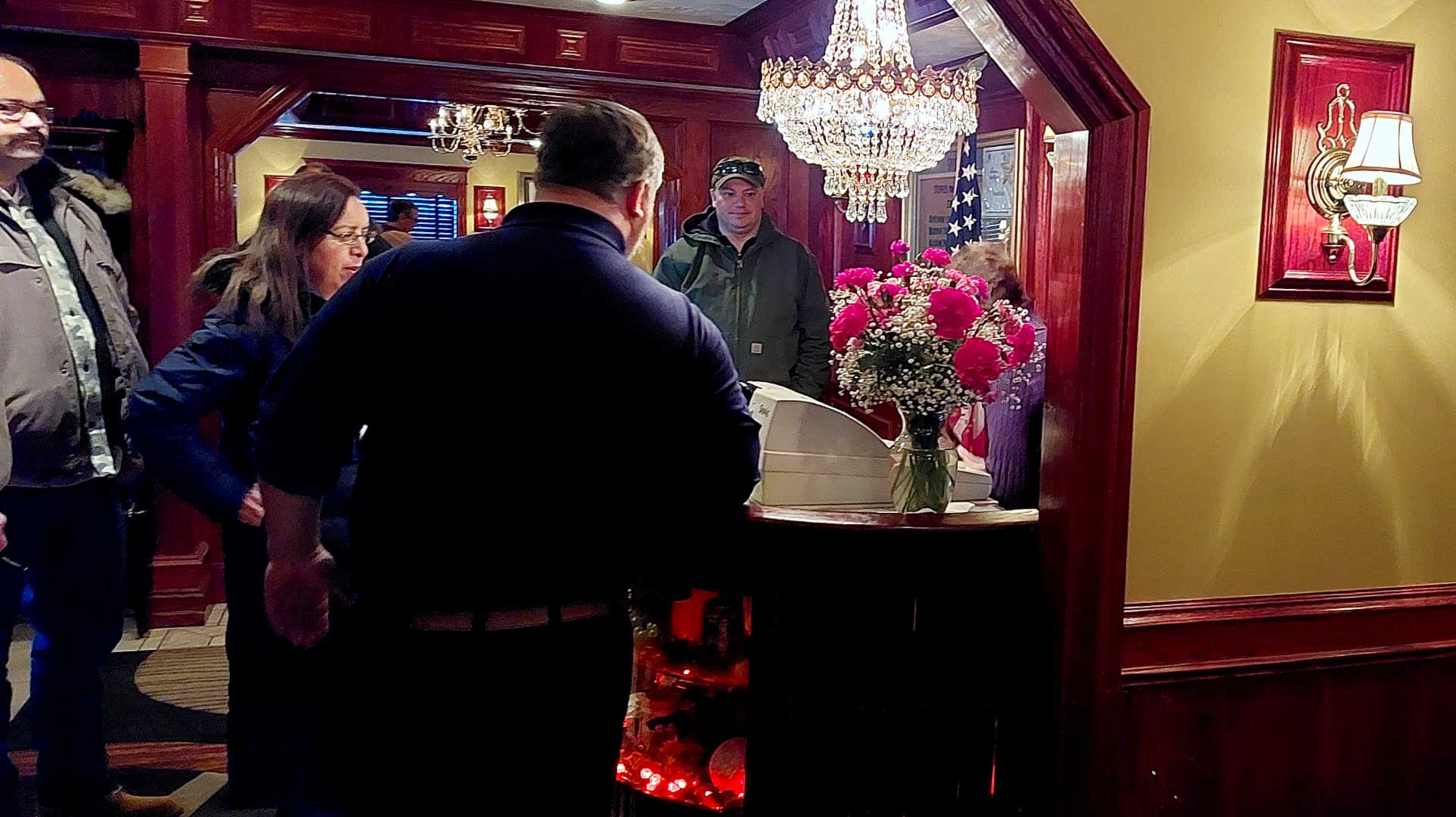 Reservations aren't required, but they are recommended–especially on Friday or Saturday evenings. The restaurant–open Wednesday-Sunday, 4-9 p.m–had people lining up at the host stand early (before 4 p.m.) on one Saturday evening.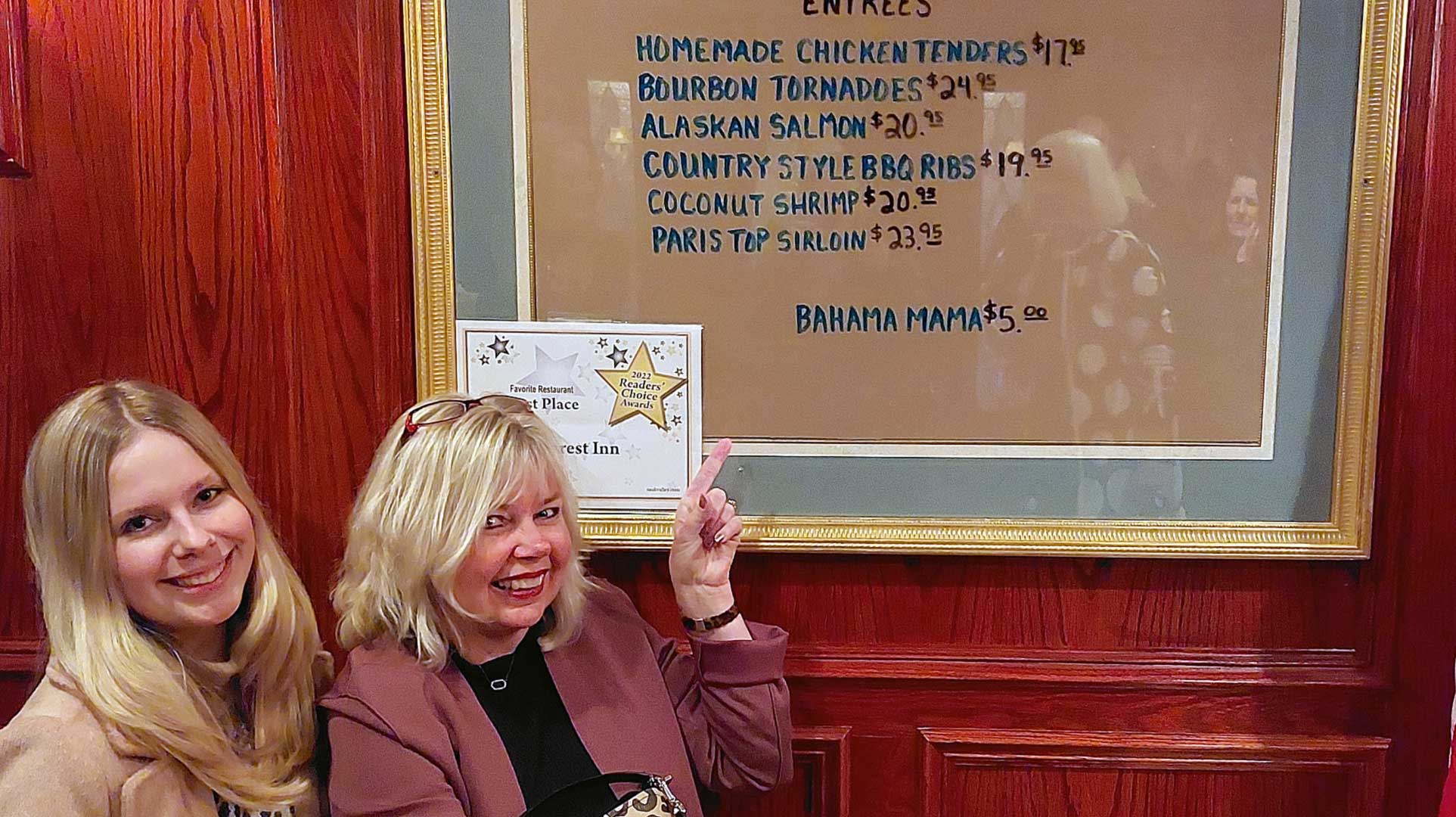 Favorite meals aren't just for customers.
Like their customers, the owners have their favorite order for an evening at the Forest Inn. "Start with the stuffed mushrooms, make a trip to the salad bar, order the prime rib, and for dessert, try a Grasshopper, Blue Bunny, or Golden Cadillac ice cream drink," remarked Bajrami.
Adult beverages
The Forest Inn features a wine list to suit any customer's tastes. They sell bottles of domestic, international, and craft beer. "Our patrons enjoy our old fashioneds margaritas, and bourbon sours," Almir commented. "The ice cream drinks are fantastic."
Special events
Besides the main dining rooms for evening service, the Forest Inn has a separate room to accommodate private parties of up to 60 people. The Bajramis welcome inquiries for your special event and will work to ensure the menu and setup is perfect.
Looking forward
As 2022 moves forward, so does the Forest Inn. "We are always trying to improve our quality and service experience," Bajrami.
Time to gather your friends or family and make a trip to Morrison. It will be an evening well spent, and you won't leave hungry.
Wear your stretchy pants.
Hours
Wednesdays through Sundays | 4-9 p.m.
CLICK HERE for the menu.
Contact information
The Forest Inn Restaurant & Lounge
20657 Lincoln Rd.
Morrison, IL 61270
Phone: 815-772-4557