cSavanna | Pick your Outdoor Adventure
It's time for an adventure…
Savanna, located on the Mississippi River, has always been known as an outdoor paradise offering exploration such as hiking, biking, fishing, hunting, and boating. The town has a friendly and relaxed atmosphere with exciting opportunities for adventure vacations or quiet getaways; antique shops on Main Street, serene hikes in the close-by Mississippi Palisades State Park, water activities, welcoming bars and restaurants, and historical sites. And starting this summer, there are now watercraft rentals.
Amber the Adventure Bus has been unveiled and it's designed specifically for Savanna and its tourism. The custom art on the bus is one-of-a-kind and you can find it traveling the streets of Savanna or parked in front of the Marina on Rt. 64.
Watercraft reservations start July 4, 2019
Offering transportation for kayak and tubing rentals is only the start of Amber's Adventures.
cSavanna is a business based out of Savanna and with the Mississippi River & its backwaters right out his back door, the owner saw a need for local watercraft rentals. Rather than waiting for someone else to do it he got down to business and created this unique opportunity so visitors can take the family out to find the next best spot with a fishing boat or relax while traveling down river channels with a kayak. During your visit, you can explore the downtown or the Great River Bike Trail which travels from Savanna to the Quad Cities and passes through refuges, parks, and river towns.

Rental Options
Kayaking
Enjoy the beauty of the Mighty Mississippi River up close and personal and seek the thrill as you travel at your own pace. Kayaks are available for rent by the hour or full day. There are several different options to suit your preferences.
Tubing
If you prefer a more relaxing experience the River Run tubes will give you the same fun on the water with far less exercise. These tubes have mesh bottoms and headrests to give you a comfortable and relaxing ride down the River. Double tubes are perfect for kids or couples who want to stay together! With an attached cooler, you won't have to go far to refill your drink!
Reserve your rental and find pricing + packages for all rentals at https://www.csavanna.club/adventures-rentals
"Play and Stay" Packages
cSavanna owners have been coming up to Savanna's outdoor paradise for 25 years and always knew that Savanna's busy summer months were packed with travelers from all over the world.
Their journey started in real estate and vacation rentals. The bookings filled up fast. So fast that they quickly expanded to multiple rental properties. I had the opportunity to tour all of cSavanna's rental units and stay at Betty's Bell-House. This is an absolutely beautiful century-old refinished apartment in the heart of downtown. A block off of Main Street, Betty's Bell-House offers easy exploration of Savanna's historic downtown. It's also dog-friendly. The unit allows for 10 guests with multiple bedrooms, 2 bathrooms, and even your own washer and dryer. Both bathrooms are large and newly remodeled with large walk-in showers. One of the bathrooms boasted an AMAZING tiled rain shower that made me immediately want to install one in my own home. It also has a firepit out back perfect for summer drinks and making smores around the fire.
Added bonus–a fenced yard for your fur babies.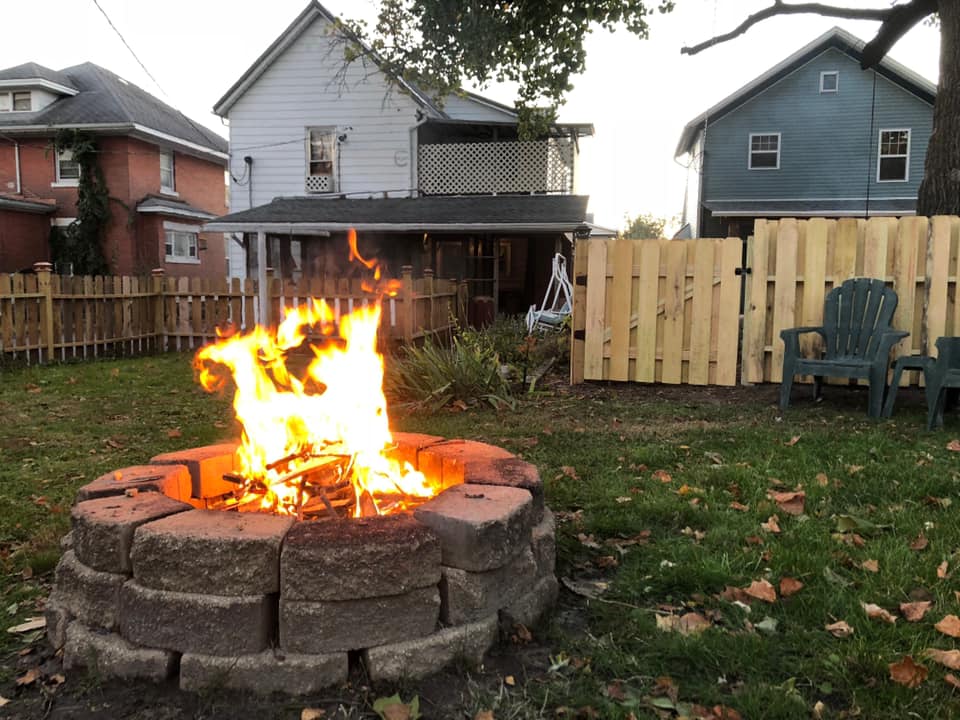 In addition to Bettys Bell-House, cSavanna also offers multiple other vacation rentals. BluRiver is a spacious and refinished home located right next door to Bettys Bell-House. It can host up to 4 guests and features a patio, awning, firepit, and seating in the backyard. BluRiver Canopy is the top level of the home which hosts up to 6 guests. All units provide modern bathrooms, comfy beds, access to the backyard firepit, and safe and secure entrances with your own personal code.
Important links
You can find more information and book your stay at one of cSavanna's properties at the following links.
CSavanna Website: https://www.csavanna.club/ | CSavanna Facebook: https://www.facebook.com/csavannaillinois/
Watercraft Rental information: https://www.csavanna.club/adventures
Betty's Bell-House: https://www.airbnb.com/rooms/9839498?guests=1&adults=1&sl_alternate_dates_exclusion=true&source_impression_id=p3_1559438168_gDWxjNX9aPPXu24S&s=R98hJE6h
BluRiver Nest: https://www.airbnb.com/rooms/21141797?guests=1&adults=1&sl_alternate_dates_exclusion=true&source_impression_id=p3_1559438160_w94sPvoJZwRLuugE&s=R98hJE6h
BluRiver Canopy: https://www.airbnb.com/rooms/21345998?guests=1&adults=1&sl_alternate_dates_exclusion=true&source_impression_id=p3_1559438165_cF118WnCfH8mSfxO&s=R98hJE6h