Barn at Allen Acres | A barn built for love, with love
Planning an event is a lot of work. Planning a wedding is all that and more. Barn at Allen Acres enables you to create a special, memorable event and actually enjoy it.
Another event season awaits
Located just outside Rock Falls, Illinois' city limits, the Barn at Allen Acres is an effortless drive off I-88's Rt. 30 exit. Owned and operated by Karen Allen Rogers, this event venue is gearing up for the wedding season.
Barn at Allen Acres is an authentic, 1920's-style dairy barn on a 3- ½ acre farm restored to serve as a romantic wedding venue that can comfortably host as many as 200 guests.
Rogers and her work crews are sprucing and fixing up all the different outbuildings after its long winter nap. Many of the long barn wood tables need a bit of sanding and shellacking before being used in the warmer weather months. But those tables are gorgeous.
Rogers, along with her husband, Chris, and son, CJ, oversee each event. They also have some college kids helping out. Most of them have been with the Rogers since high school.
From the dairy business to the "marry" business
Rogers may live outside the area full-time now, but this property and region of northwest Illinois are near and dear to her heart. She and her two sisters grew up here. Her grandfather, William Allen, bought the farm in the 1930s and ran it as the A&S Dairy. The dairy had a fleet of horses and carriages back in the day (see above). Three generations of Allens have resided on this quaint, rustic farm during the last eighty years.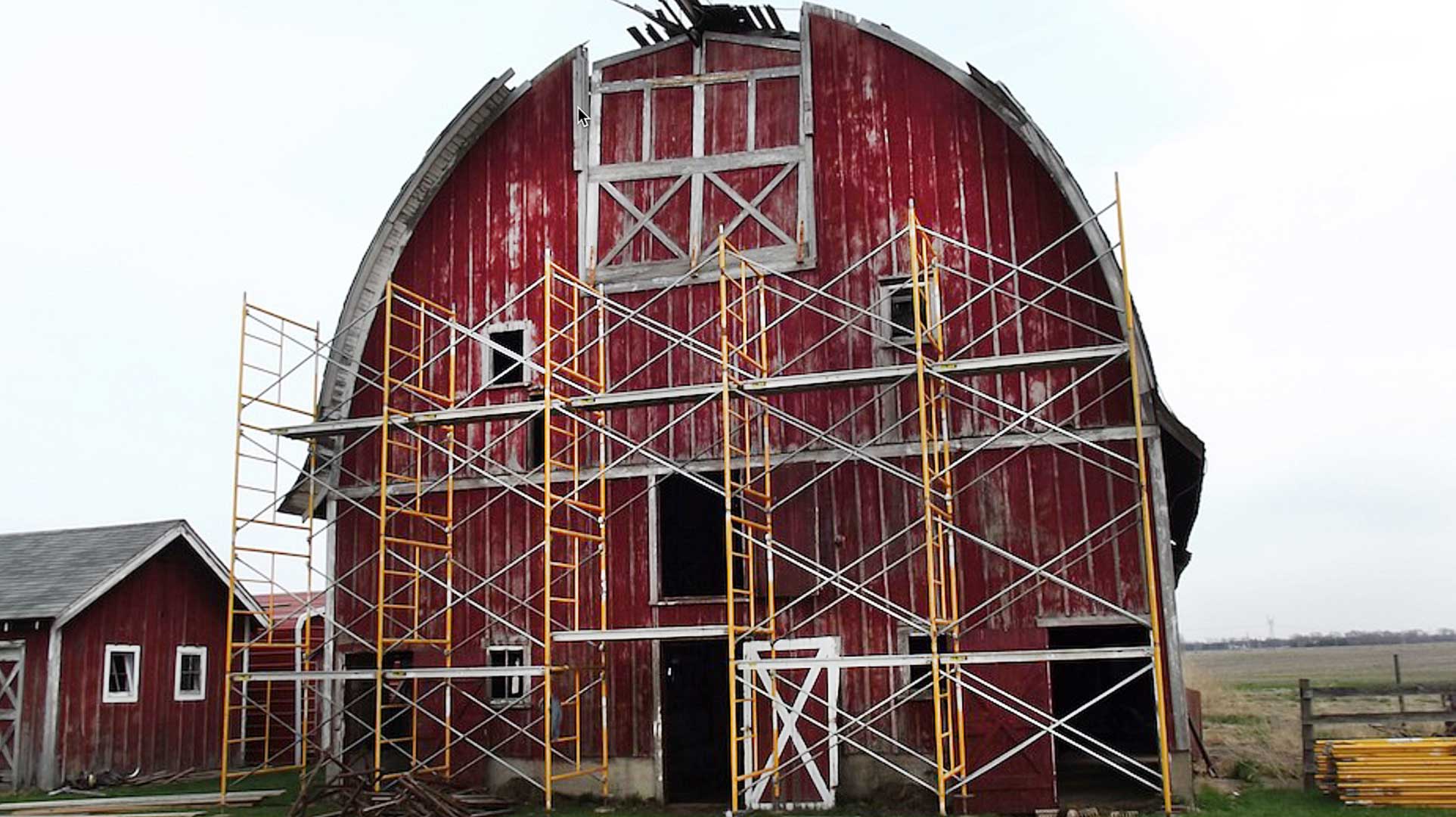 Rogers, a former flight attendant with American Airlines, made a big decision regarding the rural property. "My dad passed away in 2009 and left the farm to my two sisters and me. In 2010, my husband and I bought the property from them," said Rogers. "I have always loved the property, so I spent a few years fixing it up and restoring the barn. I didn't have a plan for the property but felt it would be a great gathering place, either for myself or others."
A business is born
She has a brilliant cousin, Deb Paul. Paul asked Rogers if she would consider a wedding in the barn for her friends. "I'm grateful the property has a purpose. I retired from American Airlines in 2013 and hosted the first wedding at Barn at Allen Acres in September 2013," said Rogers.
Having no prior event planning experience, Rogers admits that her clients who rent the venue handle most of the organizing themselves. "I'm here to help them locate decorations, electrical outlets, or how to turn things on, "said Rogers. "The groups are pretty self-sufficient for the most part."
The venue has options.
The barn itself has two levels. At ground level is the staging area for food and a place for the groomsmen to get ready. There's also a bar area close by. The upper level hosts the ceremony with an eclectic mix of old chairs and a soaring view of Illinois farmland. The Rogers installed a lift to accommodate access, making the venue handicap accessible.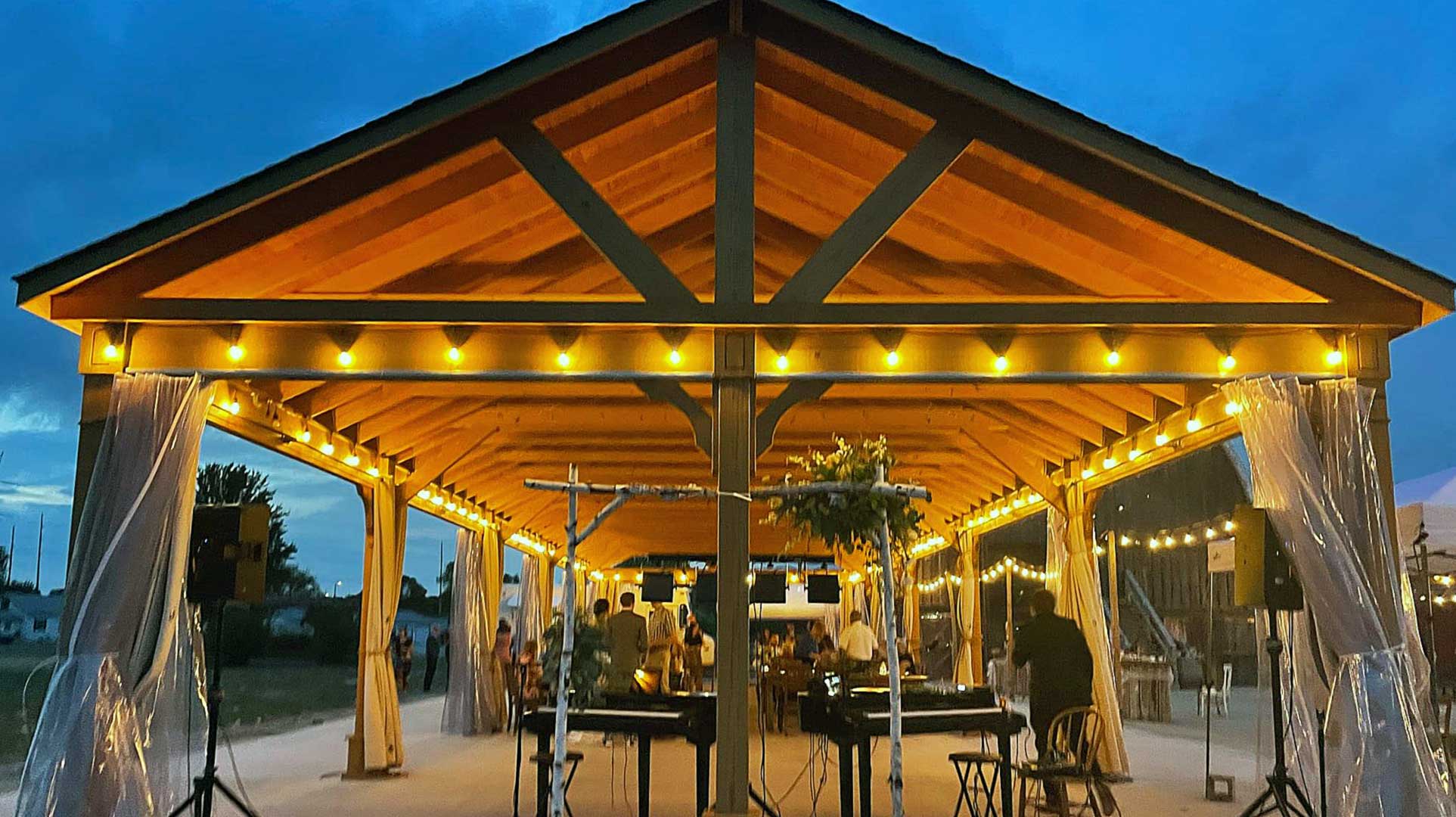 A new pavilion has a roof and waterproof curtain panels to withstand almost any inclement midwest weather situation. If the bride and groom prefer the ceremony outside, the property features a gazebo to highlight the nuptials.
Is the event running into the night? The fire pit is a welcome place to gather around with the "last" drink of the evening.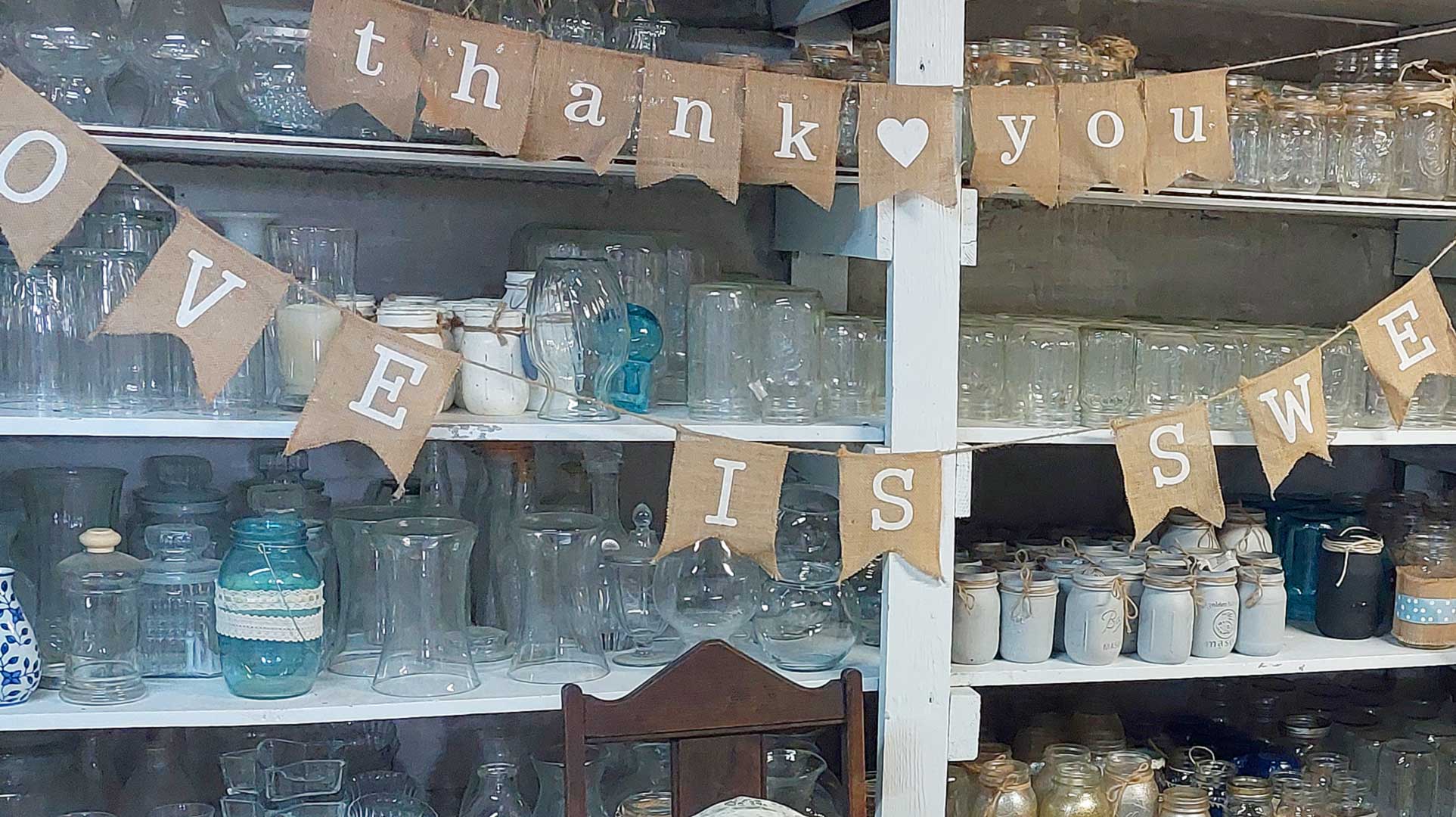 Another building carries any decor a planner desires. It's all part of the rental fee. You might call it one-stop-shopping. Included in the rental price are the barn wood tables and chairs. "We have yard games such as giant Jenga, giant Tic Tac Toe, croquet, bags, giant Dominos, Yatzie, and burlap bags for bag races," comments Rogers. It sounds like good times indeed.
Bring your caterer
The venue does not provide food and beverage. "Customers may use whomever they wish for catering," said Rogers. "I recommend different vendors if the customer wants to keep it local." Just below is a shortlist of food and photography vendors. It's by no means a complete list. Go to the Barn At Allen Acres website and click on VENDORS. You'll see tons of businesses to assist in making your event top-notch.
Guest house
The main house, also called the Guest House, provides a place for the wedding party to get ready. There are four bedrooms, a living and dining room, and a kitchen available for the party. One of the bedrooms offers beautiful light while the bride and her attendants get dressed. Unlike a single weekend day rental, the Guest House may be used for overnight stays for a weekend rental as part of your event.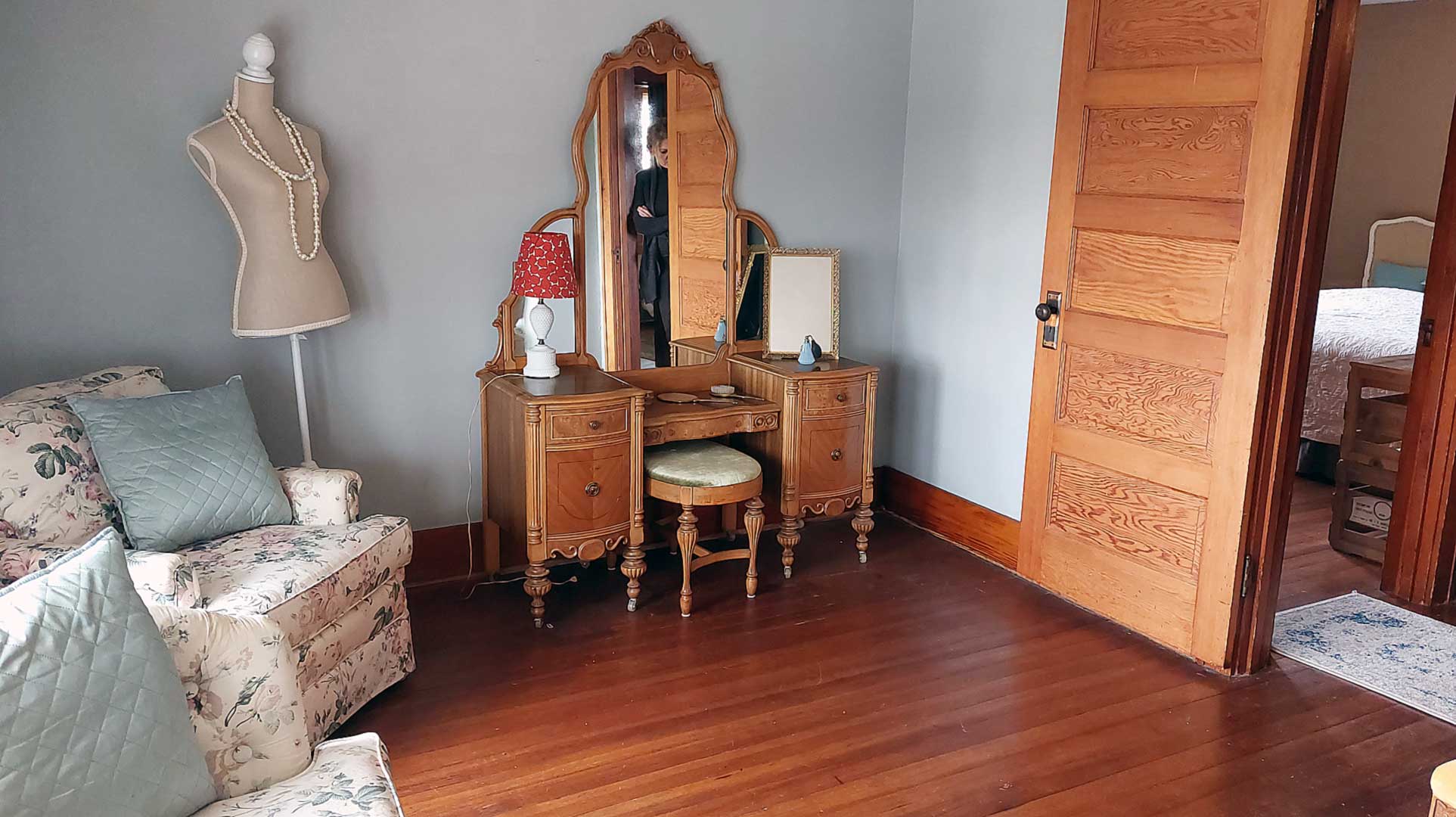 Not just for weddings
While weddings are the mainstay of the Barn at Allen Acres' business, Rogers is looking to grow her corporate events. As she works on the corporate side of things, the venue is used for fundraisers, graduation parties, reunions, and quinceaneras.
The busiest season in terms of weddings is September and October. The quietest month is July. The Barn at Allen Acres closes from November through April.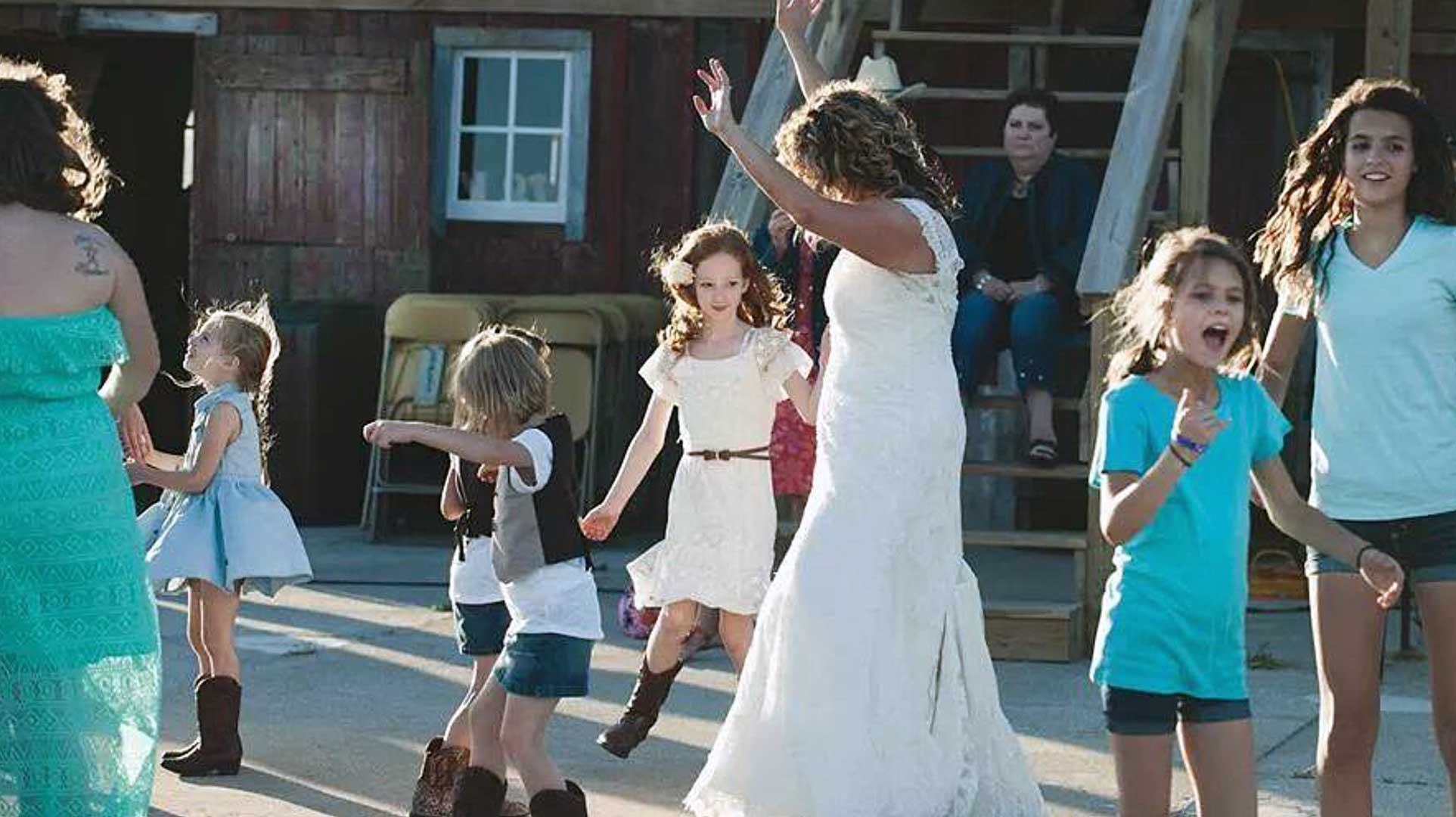 Fun memories happen at a moment's notice.
When people gather as friends and family for a celebration, fun things happen. Rogers recounts a particular evening. "Last year, we had a wedding in late October after the corn had been harvested. One of the neighbors down the road was having a hayrack ride for his family. He stopped by and gave the wedding party and guests hayrack rides into the night. The bride and groom said it was magical, and the guests said it was the most fun they've ever had at a wedding. I have GREAT neighbors. LOL."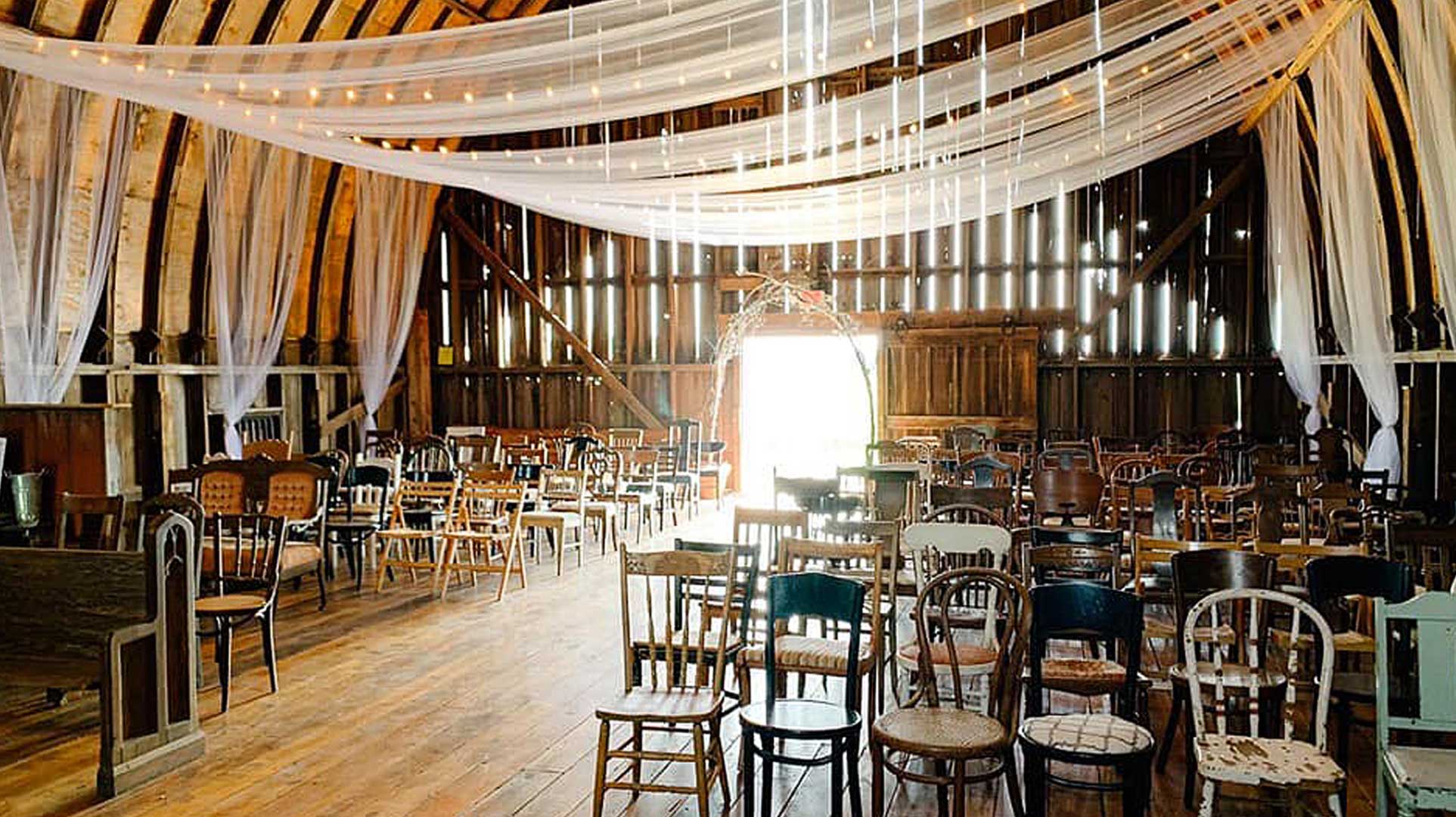 Future hopes for the Barn at Allen Acres
In 2021, the venue added the Pavilion as a different place to host events. For 2022, Rogers hopes to take a year to relax and be in the moment. "I thought I'd give my brain a rest and enjoy what I've built. I hope all guests can relax and enjoy their time here," said Rogers.
Sounds like a plan. If you have an event coming up and want a unique place for it, the Barn at Allen Acres fits the bill. Check out the contact information below.
Contact information
Barn at Allen Acres
2206 Prophet Road
Rock Falls, IL 61071
Phone: 847.687.3348
Email: [email protected]|
WEBSITE