Baking a Difference in Oregon, IL

It's a bakery unlike any other.
The small town of Oregon, IL has a bakery unlike any other. Located on the northeast corner of 3rd Street and IL Route 64 sits The Village Bakery. The building's front entrance is perfect because it is located on the corner instead of facing the street ensuring you can't miss the welcoming sign and windows full people enjoying a meal of fresh baked goods. Not only is it a great place to hang out, but it benefits a great cause.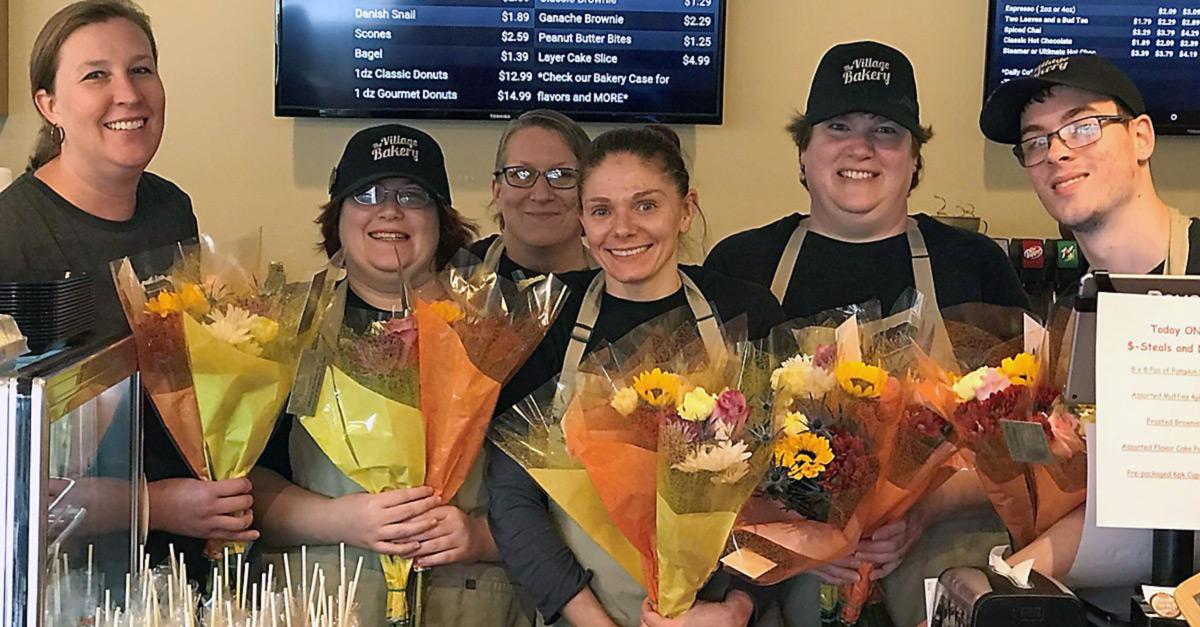 "Baking a difference" isn't just a catchy slogan
The Village Bakery creates products that people love while "baking a difference" in the lives of individuals with developmental disabilities. They create meaningful, community-based work for men and women with developmental disabilities while instilling them with the confidence to work in front of the public and the competence to do it well. Only about a quarter of the employees at the Bakery have a disability, but they work shoulder-to-shoulder with others without disabilities. They efficiently train them while working in the real world and serving customers — with big smiles I might add. Special education students also intern with the bakery during the school year.
The idea began after a conversation with a special education job coach. They all shared stories regarding the difficulties in finding job opportunities for people with disabilities, especially in rural communities such as Oregon. Which raised the question, "Why not create our own business to hire those with disabilities?" And the idea of a local bakery was born.
The goal is that the Village Bakery will break down barriers and stereotypes. They hope to teach others to have patience and respect for people with disabilities and to treat them as equals in the workplace.
"Customers who come to the bakery begin to see people with disabilities as unique individuals. They are given the opportunity to realize that each person, regardless of outward appearance, has their own personalities, their own dreams. And that just has to be good for the whole community – not just our staff." – Village of Progress

Baked Goods Galore
Upon walking into the bakery, my eyes immediately went to the glass case FILLED with baked goods. The case displays cupcakes in multiple flavors, slices of cake, fresh baked cookies and much more. In addition, they had a refrigerator with full-sized cakes to take home.
I approached the counter and was welcomed by two smiling faces eager to take my order. The menu is filled with many flavors of coffee, homemade soups, and plenty of sandwiches to choose from.
The sandwiches will knock your socks off
I settled on a peppermint mocha and their pick of one of their favorite sandwiches which is the "VOP (Village of Progress) Original." It consists of oven-roasted chicken breast, provolone cheese, roasted red peppers, and topped with spinach and teriyaki Asian slaw on a fresh ciabatta bun. It was amazing! Despite my willpower, I couldn't walk away from that bakery case so I ended up with a very large slice of carrot cake to take home as well.
Satisfy your cupcake fix
They also offer custom cakes, cupcakes, pies, doughnuts, custom-ordered ice cream, and other sweet treats. There is a drive-through window if you're in a hurry or just want to take a sweet treat or sandwich home with you.

The Village behind the bakery
The Village of Progress in Ogle County is the organization behind the Village Bakery. Founded in 1969, their mission is to challenge individuals with disabilities to reach their full potential at work and become productive members of the community. They value compassion and mutual respect and are always looking for new opportunities to "bring the Village into the community and the community into the Village."
In addition to the bakery, the Village of Progress offers other avenues of work such as packaging and assembly work and teaching social skills and activities of daily living. They recently purchased a half dozen side-by-side tandem bicycles to start the Village Bike Club. Starting in the spring and continuing through the fall, volunteers and those who are part of the Village take 45-minute bike rides through the local parks. It's become very popular and a great way for those in the community and those in the village to get to know each other.
When I asked Brian, the executive director of the bakery, what the most rewarding part of the job was he responded, "To work with and among men and women who face life with a sense of joy and enthusiasm. To hear a parent tell you, "I never knew my child could do that!" To have a 14-year-old special education child point their finger in your face and say, "You keep this place open so I can work here!" To hear a caseworker say, "That for many of the folks we serve, attending the Village is the best part of their day."
Location & Hours
101 North 3rd Street
Oregon, IL 61061
815-732-3830
Monday – Friday 6 am to 6 pm | Saturday & Sunday 7 am to 4 pm
Website: https://thevillagebakery.org/
Facebook: https://www.facebook.com/thevillagebakery.bakingadifference/